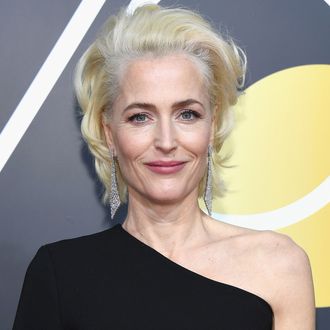 Gillian Anderson.
Photo: Kevork Djansezian/NBC/NBCU Photo Bank via Getty Images
Gillian Anderson is definitely not returning for any further seasons of The X-Files, but the show's creator, Chris Carter, has hedged about whether or not he would keep the story going without Dana Scully onboard. (He has previously said he definitely wouldn't and that it's very likely he would, so, a toss-up.) However, TVLine reports that Fox CEO Gary Newman said today that "there are no plans to do another season at the moment," and while one might be tempted to hang that on Scully's departure, Anderson herself has a more pragmatic view on the end of X-Files, which she shared on Twitter this afternoon:
That is, after all, probably what Dana Scully would tweet.