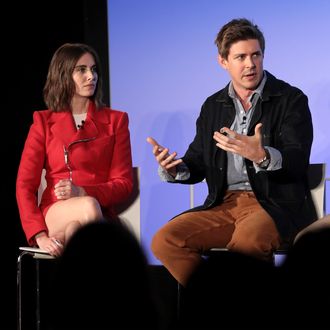 Photo: Cindy Ord/Getty Images for Vulture Festival
When Netflix's GLOW was filming its first season in 2016, the cast and crew believed they would debut a show about female wrestlers alongside the debut of the first American female president. And though that dream was squashed on November 8, the loss actually served as a bonding moment for the women working on the show — especially as they prepared for one of the series' more shocking scenes.
During Vulture Festival's Gorgeous Ladies of Netflix's GLOW Panel, showrunner and co-creator Carly Mensch revealed that the show began filming episode seven the day after the election. That episode includes a scene where two white women wrestlers, Stacey (Kimmy Gatewood) and Dawn (Rebekka Johnson), perform for a live studio audience in Ku Klux Klan robes, facing off against two African-American wrestlers Cherry (Sydelle Noel) and Tammé (Kia Stevens). "Before [the election], there was some trepidation," Mensch explained. "We're doing this very taboo thing. Even though it's wrestling and it's part of the blood of wrestling, there was some nervousness. And then Trump got elected, and we were like, 'We're doing that episode!'"
"I think all of us being there, being around each other as we filmed this crazy scene, it helped," GLOW's other co-creator Liz Flahive added.
The actors felt the same way about tackling the politically poignant material, which addressed the troubling ethnic stereotyping that was prevalent in the original GLOW, which aired on television between 1986–1990. "We were there with Kimmy and Rebekka as they were rehearsing for the first time in their KKK shrouds, and we were holding their hands, and we were like, 'Yeah, fuck yeah," Alison Brie explained. "It did just feel like, 'Thank god this is where we work and thank god these are the stories we're telling right now,' as opposed to what we were all thinking [about] how it was going to go with, 'Wow! Won't this be so fun when we have a female president while we're making a show about women?' The importance and the weight was added."
The KKK gimmick was actually based on a real National Wrestling Conference match between Virgil and Jim "The Anvil" Neidhart, which took place in the '90s. Unlike GLOW's scene, which ends with the black wrestlers winning, the klansman won, and Virgil was lynched on stage.