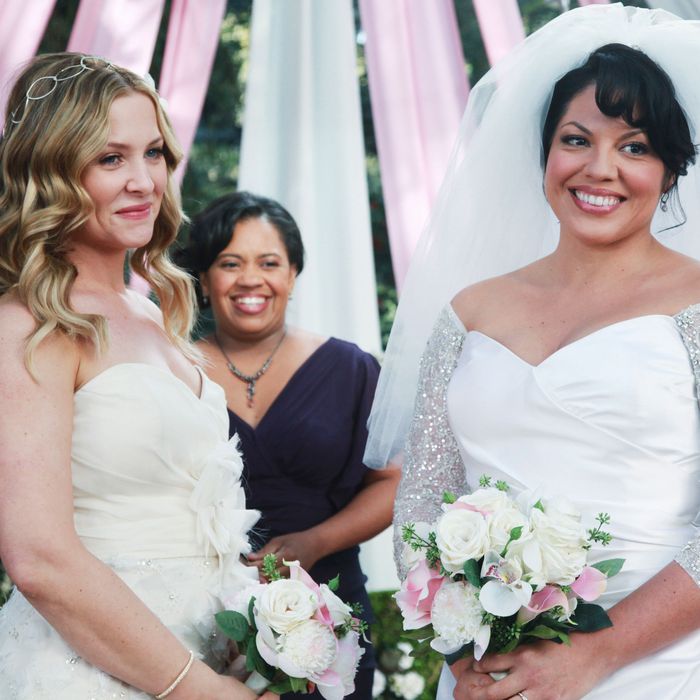 Photo: Richard Cartwright/ABC via Getty Images
As that dog selling newspapers in The Muppets Take Manhattan once said, "Somebody's getting married!" Or, if you're on long-running prime-time soap Grey's Anatomy, everybody's getting married! The season 14 finale alone had two weddings featuring main characters. All told, we've now attended fourteen on-screen Grey's Anatomy weddings. (Sorry, George and Callie, your nuptials don't get a spot on this list because we never saw your Vegas elopement and also that was a terrible idea.)
How do you know you're watching a Grey's Anatomy wedding? Well, usually they're planned at the last minute and everyone still schedules surgery that day; people can be hours late and not get kicked out of the venue; flower arches and/or twinkle lights are a must; and there are always, always meaningful glances between people in the bridal party and someone sitting in the crowd.
Although there are many similarities between Grey's weddings, not all are created equal. In honor of the big season 14 finale wedding extravaganza, Vulture looks back at all the wedding events we've attended over the years and ranked them based on how memorable they were (for better or worse). But the romance, the drama, and the dress don't hurt either. What do you say? Be our plus-one?
14. Teddy Altman and Henry Burton
Season 7, Episode 11 "Disarm"
The vibe: Sterile Courthouse Chic.
Is it memorable?: It's memorable only because it's happening at all. It's pretty audacious for Teddy to marry a patient in order to get him proper health insurance. The ceremony itself — of which we only see the lead-up — is but a blip on the radar that is Seattle Grace Mercy West Memorable Moments. Teddy probably doesn't even remember it.
Is it romantic?: Teddy gets a phone call from work and tells the Justice of the Peace to "just skip to the end." So, no.
Fashion report, please: Teddy wears a cool jacket and nice boots, but no one, especially not the Eeyore of a witness Owen Hunt, makes any kind of effort.
Let's talk reception: It takes place in an OR and the theme is Intense Trauma Surgery.
Are tissues required?: Only if the Justice of the Peace had a cold.
RSVP?: There's nothing to RSVP to! We are cheated out of Scott Foley in a tux and that's an injustice I will not stand for.
13. Amelia Shepherd and Owen Hunt
Season 12, Episode 24 "Family Affair," and Season 13, Episode 1 "Undo"
The vibe: It's your standard small church wedding. There are flowers along the aisle and on the altar, but nothing hinting at the bonkers drama of the day.
Is it memorable?: Sorry, not even the runaway-bride, scream-at-my-sister-in-law-while-holding-a-Slurpee-in-a-convenience-store situation that Amelia causes can ever overshadow the fact that Ben Warren cuts a baby out of April Kepner with a paring knife on Meredith's kitchen table the very same day. Emergency kitchen-table C-section wins every time.
Is it romantic?: NO. These two should not be getting married. Meredith knows it — she calls the wedding and the marriage "doomed." The sky knows it — it releases a deluge of rain that day. Why is Owen totally cool with Amelia hopping in a getaway car for a hot second before walking down the aisle? Does he just think Amelia had a Slurpee craving? Oh, Owen, you dummy.
Fashion report, please: Amelia has a Grecian vibe going on with her V-neck column dress and side bun adorned with a white flower. Bridesmaids Meredith and Maggie and best woman April wear dark-purple gowns. April's ends up covered in blood and guts, so no, she won't be able to shorten it and wear it again.
Let's talk reception: Again, it's pretty standard. There's dinner and dancing in a basic reception hall with twinkle lights hanging from the ceiling. Some Seattle-based twinkle-light retailer is really making a living off the doctors in this town.
Are tissues required?: To dry off from the rain, I guess?
RSVP?: Hard pass. There are at least three more interesting things going on that day.
12. April Kepner and Jackson Avery
Season 12, Episode 11 "Unbreak My Heart"
The vibe: When we finally see April and Jackson's elopement (just as they're signing divorce papers), we learn it was a very tasteful one in a garden. They even have a flower arch! Grey's loves a good flower arch.
Is it memorable?: All the events before and after this tiny ceremony are much more memorable than the ceremony itself. Although they do still find time to take enough photos for a wedding album. I have so many questions about this: When did they find time to hire a photographer on their way to Lake Tahoe? Did they tell the photographer that they just ran away together from April's other wedding? There was no one else at this wedding, so is the entire album full of photos of April and Jackson hanging out in a garden by themselves? Can I get a copy?
Is it romantic?: These two lovebirds are so stinkin' happy, but by the time we see the actual wedding, we know too much and there is a sense of dread coloring the entire thing.
Fashion report, please: Thankfully, April opts to forgo wearing her dress from the wedding she just fled, and instead wears a cute, knee-length white dress with some tasteful floral embroidery.
Let's talk reception: Just motel sex, I guess.
Are tissues required?: Since we already know these two don't make it, you may need them for sadness reasons.
RSVP?: You can take a pass on this, unless you're aching for a reminder of when April and Jackson were happy.
11. April Kepner and Matthew Taylor (Take Two)
Season 14, Episode 24 "All of Me"
The vibe: Wedding Leftovers (but, like, really nice leftovers).
Is it memorable?: Well, it's definitely a surprise. After the wedding April planned for Alex and Jo — a lush, outdoor, shabby-chic affair — goes haywire, April gets a surprise proposal from Matthew. Then a minister shows up and it's fate: They're getting married right then and there, even though they only rekindled their romance like, yesterday. So, yes, the WTF factor will stay with people for a long time.
Is it romantic?: It's great that April leaves her tenure on Grey's Anatomy with a happy ending, but let's get real. Who is moved by this couple? Reveal yourselves!
Fashion report, please: It's undeniable: April looks fabulous in the floral dress she wore as a guest to Alex and Jo's wedding and it doubles nicely as a last-minute wedding dress. Matthew has a great, edgy new haircut and beard which makes my insides confused when I think about how his original proposal to April all those years ago was via flash mob.
Let's talk reception: Let's assume they piggyback on Alex and Jo's. Oh, to be a fly on the wall when they walk in and tell everyone their news.
Are tissues required?: Not because of the actual wedding, but because we are saying good-bye to both April Kepner and Arizona Robbins in this same moment. Arizona walks April down the aisle (tears!) and Jackson is there because he is April's person forever and always. [Insert ugly crying noises here.]
RSVP?: I have an appointment, but I'll definitely look at some photos, maybe?
10. Meredith Grey and Derek Shepherd (City Hall Do-over)
Season 7, Episode 20 "White Wedding"
The vibe: Quick and dirty.
Is it memorable?: Nope. Give me Post-it Note wedding or give me death.
Is it romantic?: Meredith and Derek finally decide to make their Post-it Note marriage legal so that they can adopt Zola and begin building a family together. From that standpoint, it is pretty romantic. Also, those two are so giddy throughout the very short process, it is adorable.
Fashion report, please: Sensible pantsuits all around!
Let's talk reception: A simple snuggle sesh with Zola in the hospital. Add in a piece of cake, and we've got ourselves a real party.
Are tissues required?: It's always nice seeing Meredith and Derek so happy, but no need for tears here.
RSVP?: Very skippable, especially if you sent a gift after their first wedding.
9. Catherine Avery and Richard Webber
Season 11, Episode 24 "You're My Home"
The vibe: The hospital chapel is used to sad tears; this time it gets dolled up with flowers and is full of joyful tears. You go, hospital chapel!
Is it memorable?: If only because they are the two "titans" of Grey Sloan Memorial and a few hours earlier they had a screaming match in the ambulance bay and Catherine gave her engagement ring back.
Is it romantic?: After the two make up thanks to Meredith "playing the dead husband card" and reminding them that time is precious and they should get their shit together, Richard promises Catherine that he will be her "safe harbor" — a place where she can fall apart when she needs to. Swoon.
Fashion report, please: Catherine wears a silver ball gown, that seems a little extra — but when isn't Catherine extra? As the maid of honor, Bailey sports a sensible floral dress, and the man of honor Jackson looks good in a suit (even though inside his heart is breaking as his marriage to April is coming to an end).
Let's talk reception: This one looks fun! Meredith hosts at the Dream House and as she watches all the dancing (Richard Webber has moves) and merriment, she decides this is the final memory she wants of this house. Derek would've loved it.
Are tissues required?: April bawls, but only because of her own drama, so mostly this is a "just wear a smile" type of occasion.
RSVP?: Skip the ceremony, head straight to the after-party.
8. Cristina Yang and Owen Hunt
Season 7, Episode 1 "With You, I'm Born Again"
The vibe: Meredith hosts this wedding in her living room, so it's classy but casual.
Is it memorable?: Eh, mainly because everyone knows Cristina and Owen are rushing into this thing post-season-six hospital shooting. There are low expectations for this working out.
Is it romantic?: Again, everyone attempting to move on and just LIVE after the horror of the hospital shooting adds a layer of "isn't love wonderful" to the whole proceeding.
Fashion report, please: Have Cristina and Meredith ever looked better? Cristina's red slinky gown is the best wedding dress of them all, and Meredith is a bombshell in a sandy strapless dress, statement necklace, and killer eyeliner.
Let's talk reception: Drinking and dancing in Meredith's living room is old news, but it's nice to do it all dressed up surrounded by candles and twinkle lights.
Are tissues required?: You might get misty thinking about how far everyone has come in a few months, or if you happen to catch Mark's stares of longing directed at Lexie, but otherwise, not really.
RSVP?: Only to see Cristina in that dress.
7. Jo Wilson and Alex Karev
Season 14, Episode 24 "All of Me"
The vibe: Last-Minute Ferry-Boat Realness.
Is it memorable?: The whole day is pretty memorable thanks to the shenanigans that go on — the original wedding is a bust once Alex and Jo get locked in a sex shed for hours and the wedding coordinator goes into anaphylactic shock in the middle of the aisle. The impromptu ferry-boat ceremony is memorable because we get to see Meredith Grey officiate the wedding of her best buddy to the love of his life.
Is it romantic?: No matter how you feel about Jo and Alex, you have to admit that it is a gorgeous day atop that ferry boat and #Jolex has been through some seriously tough times. It's nice to see them laugh and love and get a freaking win for once.
Fashion report, please: Jo wears a white cold-shoulder dress and a little crown, which all seems to fit the "I lived in my car as a teen!" brand.
Let's talk reception: Party at Jackson's house! That crew has been drinking all day, so it's probably v. messy. That seems appropriate for Alex and Jo.
Are tissues required?: Meredith brings up Derek and his love of ferry boats, which seems cruel and also off-topic, but still, the tears come.
RSVP?: It seems like an all-day hoot, so I'm in.
6. Callie Torres and Arizona Robbins
Season 7, Episode 20 "White Wedding"
The vibe: Outdoor Feminine Circus-Tent Dreamscape.
Is it memorable?: Having two women get married on broadcast TV is certainly a big deal, and within the show, it almost doesn't happen because Callie's mom tells her daughter that it isn't real. It takes a pep talk from Bailey, reminding Callie that the love and commitment between her and Arizona is what makes their marriage real, not some legal document, to get this wedding back on track. It's a very nice speech which earns Bailey the privilege of being the officiant at the wedding. I'm sorry, the privilege is ours.
Is it romantic?: There's no big, swoon-worthy moment, but the love is real between Callie and AZ.
Fashion report, please: Callie goes the traditional ball-gown-with-a-veil route, while Arizona is more boho, forgoing the veil for a flower-esque crown.
Let's talk reception: It's fun! It's under a tasteful tent (they ditch the circus-like fabric tent-arch contraption from the ceremony), with, of course, twinkle lights mixed with globe lights. There's lots of dancing and a giant cake. What more could you want, really?
Are tissues required?: When Callie's dad shows up to have his father-daughter dance, despite what Callie's mom wants, uh, yeah, you might need a tissue or two.
RSVP?: Yes! It's fun and loving and Bailey is running the show, so you better be there.
5. Miranda Bailey and Ben Warren
Season 9, Episode 9 "Run, Baby, Run" and Episode 10, "Things We Said Today"
The vibe: Winter Wonderland! There are trees dusted in snow, a stone fireplace with a roaring fire, and yes, twinkle lights. Why don't more people get married in the winter?
Is it memorable?: Guests will remember having to wait five hours for the bride to show up. The rest of us will remember Bailey and Webber rushing to the hospital in the limo when they get word Adele is there, and Bailey stripping down to her slip while attempting to save Webber's wife. Bailey is such a boss.
Is it romantic?: Oh, very. Bailey has finally met someone who deserves her, and as she worries that this marriage will tank like her first, it is only Ben who can calm her down. Yay, love!
Fashion report, please: Bailey looks like a princess in her strapless, body-hugging gown, and she deserves that. Callie, Arizona, and Meredith wear whatever red dresses they have in their closets to be Bailey's bridesmaids. It should be noted that this trend of coming up with elaborate ways to ask your bridesmaids to be in your wedding pales in comparison to Bailey's method: She walks up to them and says, "When you get to the wedding tomorrow, don't sit down." Can that become a trend?
Let's talk reception: On the plus side, there is macaroni-and-cheese in cupcake form. The negative, the DJ wears a fedora. It's a wash.
Are tissues required?: Webber picks Bailey up in a limo! Bailey tells Ben that she loves him "more than [she] can hold in [her] heart!" Webber arrives after Adele has died and imagines him and his wife dancing on their wedding day! Are you a robot? Of course you need tissues!
RSVP?: For both the macaroni-and-cheese cupcakes and the couple who are so very much in love, yes.
4. Cristina Yang and Preston Burke
Season 3, Episode 25 "Didn't We Almost Have It All?"
The vibe: It's a traditional, elaborate church extravaganza — so, the opposite of what the bride actually wants.
Is it memorable?: It blesses us with Cristina Yang uttering this sentence: "Mama took my eyebrows and now I'm a Burke." It is memorable before it even gets started … and then it is memorable because it never gets started. Cristina takes too long to walk down the aisle, so Burke goes to check on her and during his long march to the back of the church, realizes he is pretty much forcing Cristina into this and he needs to let her go — so he keeps walking. All the way to Switzerland, apparently.
Is it romantic?: Two couples break up (Cristina and Burke, and Meredith "It's So Over" Grey and Derek), and Callie crushes Izzie's dreams of being with George by telling her she and George are trying to have a baby. This wedding is the opposite of romantic. It stomps on hearts and never looks back.
Fashion report, please: After much tribulation, Cristina lands on a strapless, body-hugging beaded number that shows off the Burke choker she's forced by Mama Burke to wear. The dress is best remembered for Meredith having to cut a weeping Cristina out of it. Here's hoping they burned that thing.
Let's talk reception: Things are too dire for even a Twisted Sister Dance It Out session.
Are tissues required?: If Cristina's heartbreak doesn't get you, the vision of sisterhood as Meredith holds her best friend might.
RSVP?: At the time, it was the event of the year. You can't miss that.
3. Izzie Stevens and Alex Karev
Season 5, Episode 22 "What a Difference a Day Makes"
The vibe: Izzie's idea of a perfect wedding turns out to be Magical Garden Inside a Big Church.
Is it memorable?: Very! What began as Izzie planning Meredith and Derek's wedding to keep her mind off her brain tumor, turns into a gorgeous gift Mer and Der give to Izzie and Alex once they learn Izzie's tumor has returned.
Is it romantic?: Are you crazy? It's a cancer wedding, so yes! What's more romantic than two people trying to pledge their love to one another before one of them dies?
Fashion report, please: There's some real Sisterhood of the Traveling Pants–level magic going on here, because somehow the bejeweled gown meant for Meredith perfectly fits Izzie. In what world, Grey's?!
Let's talk reception: We never make it there because Izzie is deteriorating rapidly. Worst reception ever.
Are tissues required?: Izzie makes Cristina her maid of honor because Cristina tried to save her life. Izzie gets up out of her wheelchair and attempts to walk down the aisle. When Izzie falters, George walks her the rest of the way. Alex tells her that today, becoming responsible for her, makes him a true man. So yes, all the tissues are required.
RSVP?: It's the most gorgeous, saddest wedding you will ever lay your misty eyes on.
2. April Kepner and Matthew Taylor (The Barn Burner)
Season 10, Episode 12 "Get Up, Stand Up"
The vibe: Of all the Grey's weddings, April and Matthew's is definitely the most Pinterest-worthy. It's in a barn! There are wooden directional signs! There are little tins of mints that say "Mint to Be" on your way in! AND THERE ARE BUTTERFLIES IN BOXES! It's a gorgeous wedding planned meticulously and with care by a person who has obviously been dreaming of this day since she was a little girl.
Is it memorable?: Is a beautiful bride and a handsome groom having their lovely wedding interrupted by another handsome man standing up and professing his love for the beautiful bride, and then handsome man and beautiful bride running away together memorable? UM, DUH.
Is it romantic?: Did you read what I just wrote? It is extremely romantic and it makes my stomach tingle every time I see it. Just, you know, not for the groom.
Fashion report, please: April wears a gorgeous gown with a ball-gown skirt and some sheer netting with embroidery. Arizona, Cristina, and Meredith, the reluctant bridesmaids, wear a coral-pink floor-length gown that surprisingly flatters everyone. This wedding is picture-perfect, although they never make it to the pictures thanks to Jackson's big moment.
Let's talk reception: There isn't one! Though I imagine the spread was going to be wonderful. They probably were going to serve pies or something equally as twee.
Are tissues required?: A definite yes for #Japril shippers, the groom, and probably for whoever found those unopened boxes of butterflies days later.
RSVP?: Yes! I live for the DRAMA.
1. Meredith Grey and Derek Shepherd (Post-it Note Wedding)
Season 5, Episode 24 "Now or Never"
The vibe: Simple Locker-Room Romance.
Is it memorable?: More than memorable, Meredith and Derek writing their vows to one another on a Post-it Note because they have no time to run to the courthouse but cannot wait any longer to be married is iconic.
Is it romantic?: For Meredith and Derek, it is perfect.
Fashion report, please: Wear a freshly pressed pair of scrubs and call it a day.
Let's talk reception: Let's not? What follows Mer and Der's Post-it vows is Meredith discovering that John Doe from the horrific bus accident is actually George and he is fading fast. I'll take a DJ wearing a fedora over that any day.
Are tissues required?: Watching the Queen Elizabeth and Prince Philip of Grey's Anatomy fully commit to one another is a beautiful thing to behold. When Meredith brings up the possibility of getting Alzheimer's and forgetting Derek and he promises her that he will remind her who he is every day, well, how can you not wipe a tear or two on your scrubs?
RSVP?: To the most exclusive wedding of the century? Uh, yes, yes, one-thousand times yes.