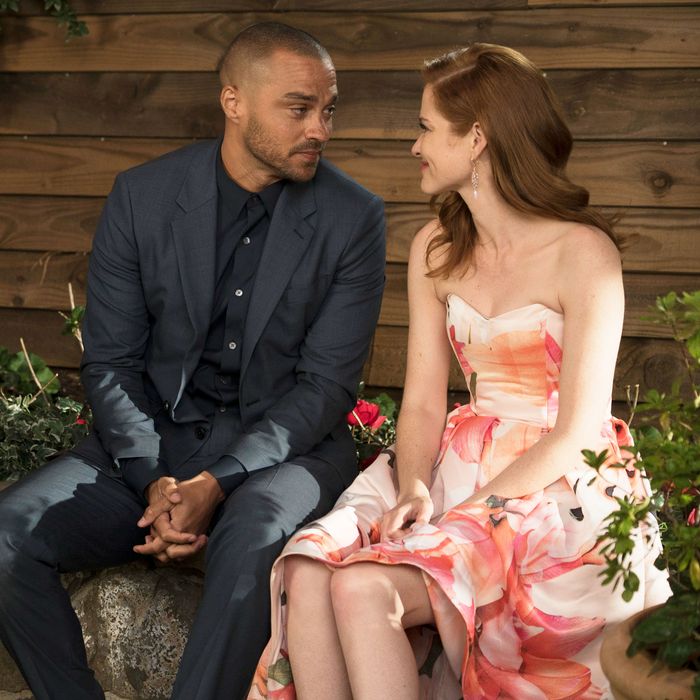 Photo: Eric McCandless/ABC
What. A. Freaking. Day. No Grey's Anatomy wedding ever goes smoothly, so you knew there'd be hijinks and DRAMA on Alex and Jo's big day, but all the hijinks and all the DRAMA? What a treat. It was delightful to be crying tears of joy at the end of a Grey's season finale rather than sobbing into my Screaming Pillow because my heart had been torn out once more. We are all living by the end of this episode.
We should also remember that in addition to "All of Me" being the Karev-Wilson nuptials some people out there have been waiting for, the season 14 finale is also the big good-bye to two beloved characters. Did I want a more emotional Arizona and Alex scene? Sure. Have I always been lukewarm on April and Matthew? Definitely. But still, there's something nice about characters getting a happy ending on this show. And since they have both avoided the Grey's Anatomy Grim Reaper, maybe they will visit us again one day.
April certainly goes out with a bang, huh? She plans a gorgeous outdoor wedding for Alex and Jo on Bainbridge Island … that immediately goes to crap. Is this wedding cursed? If you believe it's bad luck for the groom to see the bride before the ceremony, then maybe so. Jo can't help herself though. She gets word that she's been accepted to a prestigious fellowship at Mass Gen in Boston. She has to tell Alex! He's thrilled for his soon-to-be-wife. Meredith does not share the sentiment. She knows Alex will follow Jo wherever she goes, which means he'll be headed across the country, too. She goes as far as offering Jo an attending job at Grey Sloan — a terrible idea — to keep Alex in her world. Eventually, she explains her feelings to Amelia: She's worked hard to build a happy life without Derek or Cristina, so to lose Alex ("my Alex" she calls him; tears, so many tears), would be a huge blow to that life.
When Jo gets the offer from Meredith, she thinks Alex put her up to it, going back on his promise to let her choose where she wants to go. She heads over to see Alex once again, this time in her actual (very cute) wedding dress. So, yeah, if you are superstitious, you're expecting the worst right now. Alex and Jo are not, so they instead decide to find a remote location on the island and get it on. Alex kicks in a shed door to accomplish this task. He is determined and committed—two great things to be when entering into holy matrimony. Good for him!
Alex and Jo have some time for this Shed Rendezvous because most of their guests are at the wrong wedding due to a GPS-link snafu on the wedding website. The minister is also missing. There is no world in which April wouldn't have every detail of this wedding on lockdown, but it makes for a very hilarious episode, so we'll go with it …begrudgingly. (The other item I find hard to believe: Stephanie isn't at this wedding. Stephanie would be at this wedding.)
Seeing everyone's faces as it dawns on them that they are definitely not at Alex and Jo's wedding is worth the plot hole. They all slowly make a break for it, leaving Bailey (who just found out she is making some serious dough stacks from the Trailblazer) and Ben as the last ones left. It's a good thing too, because the Mother of the Bride (Tisha Campbell-Martin, fun!) collapses. Bailey and Ben get her to Grey Sloan Memorial and into surgery. With Maggie away at the wedding, Bailey needs a heart surgeon. Who should wander in but Teddy Altman, cardio surgeon extraordinaire. Why is she here? WHAT TRICKS ARE YOU PLAYING, GREY'S?
Back on Bainbridge Island, the guests have finally arrived. That would be great news, except now no one can find Alex and Jo. And no one will for some time — they are locked in that sex shed. Thankfully, the bride and groom find humor in their situation. They work hard to put silver linings on everything — especially when they realize they just had sex next to a corpse sitting in the shed (what kind of shed is this?). They're stuck, but they are together and they are laughing. Hey! Another great sign for their marriage!
Their situation gives the guests lots of time to partake in the age-old wedding tradition of getting drunk and awkwardly mingling. It's especially awkward for people like, I don't know, Jackson and Matthew, who have once again found themselves together at a wedding that April has planned. They both realize that they'll have to make nice for April and Harriet's sake, since neither are going anywhere.
It also gives Betty time to question Owen and Amelia's relationship. Are they together? Are they just living in the same house and raising stray children together? Which is worse?
But it also gives us time for some revelations. In a touching moment, April, Arizona, and Webber (AZ's wingman, never forget!) talk about how we can hurt one another but people change and you need to be open to opportunities. It's what happened with Webber and Catherine, and April and Matthew, and it is what's about to happen with Arizona and the newly single Callie.
YOU GUYS. I hooted and hollered so hard when I heard that Callie had ditched that wet blanket of a human Penny Blake. She ruined so many things, but she will not ruin the true love of Calzona, who thanks to some flirty texts, seem poised to reunite once Arizona and Sofia arrive in NYC. PRAISE SHONDA.
Thanks to Meredith needing to take a drunk, heartbroken DeLuca on a walk far away from a microphone, they stumble upon Alex and Jo. The bride and groom taste sweet freedom once again. Unfortunately, by the time they all get back they find that the uptight wedding coordinator has gone into anaphylactic shock and the good doctors of Grey Sloan have had to cric her right there in the aisle. If you're going to have a life-threatening allergic reaction anywhere, let it be at a wedding full of doctors.
Just when it looks like there will be no wedding today — the bride and groom and most friends hop on the ferry back to Seattle — there end up being three.
First: A ferry-boat wedding! Thinking about it now, it is a mystery how no one has gotten married or delivered a baby on a ferry boat yet. Maggie has a brilliant idea to have Meredith become internet ordained and marry Alex and Jo. Alex tells Meredith that even if he goes to Boston (Grey's will figure this out, don't worry), Meredith will never be alone. And then he asks her to officiate. My cold, dead heart is neither cold nor dead anymore. Same with Meredith! She gives a very nice speech about how Alex and Jo have made it possible for her to look at ferry boats without weeping once more … but, like, she says it in a much more loving and wedding-officiant-appropriate way. And just like that, Alex Karev and Jo Wilson are married.
Second: Back on Bainbridge Island during cleanup duty, Matthew has been so moved by seeing April in action, watching her leave Grey Sloan to give medical assistance to homeless communities, and taking care of him and his daughter, that he proposes. Wouldn't ya know it — the minister finally shows up at that exact moment and they take it as fate. Arizona walks April down the aisle, Jackson is there, unbelievably happy for his person, and April and Matthew are married. Second time's a charm.
Finally: That wedding in which the MOB collapsed? Bailey and Teddy are making sure that is happening, too. Bailey is so inspired by the MOB's speech to her daughter (played by Gavyn Pickens, James Pickens Jr.'s daughter IRL) about living while you're alive, that Bailey realizes she needs some time away from the paperwork and stress of chief of surgery. She wants to take a sabbatical to do research and more surgeries and spend more time with her family — so she offers the position of interim chief (a sabbatical is only temporary) to Teddy.
As a thank-you, Bailey and Ben take the bride and groom to get married in the hospital chapel and livestream the whole thing, as Teddy holds the video up for the MOB to see from her hospital bed. It's a lovely little moment. Teddy is moved to tears by this stranger's wedding. But let's blame that on the hormones because, yes … TEDDY. IS. PREGNANT.
It's an extra-interesting development since I spied with my little eye Owen and Amelia getting pretty cozy on that ferry boat. We're saying good-bye to two wonderful characters, but we are welcoming in a whole lot of drama for season 15.
Laughter Is the Best Medicine, Except for Real Medicine
• "Stop projecting your secret love all over me." Meredith is always at her most hilarious when dealing with her sister-in-law.
• "Where do you sit if you used to be in love with the bride but then the groom beat you up and put you in the hospital?" Between this line and the entire scene with Meredith, DeLuca was on fire in this episode. I wish better things for DeLuca in season 15.
• "I can't get past the Spanx!" Is this the realest moment in Grey's Anatomy history?
Sob Scale: 5/10
If you're playing Sara Ramirez's version of "The Story" while people are getting married and rekindling romances and revealing dramatic pregnancies, there will be tears.