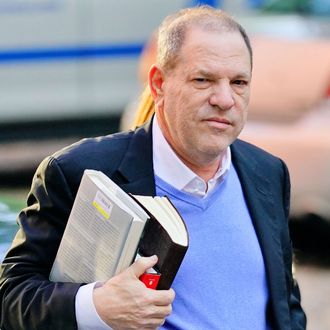 Weinstein carried biographies of Elia Kazan and Rodgers and Hammerstein when turning himself in.
Photo: Gotham/GC Images
Months after the first allegations of sexual assault and abuse broke against him, disgraced Hollywood mogul Harvey Weinstein turned himself in at the First Police Precinct station, in Tribeca, on Friday morning. According to the New York Times, Weinstein was arrested on charges that he raped one woman and forced another to perform oral sex on him. Per The New Yorker, the criminal sex act charge stems from an account by Lucia Evans, who spoke to investigators from the Manhattan district attorney's office; the source of the rape charge has not been identified. Weinstein had also been the subject of numerous other state and federal investigations.
Weinstein was then led out of the station house on his way to court, where he was arraigned on charges of first-degree rape and third-degree rape in one case, and first-degree criminal sex act in the other. For his bail package, Weinstein will post $1 million in cash, agree to wear a monitoring device, and surrender his passport.
At a press conference outside the courthouse, Weinstein's attorney Ben Brafman said he will enter a plea of not guilty and move to dismiss charges, repeating that Weinstein, as he has said before, denies all nonconsensual sexual activity. His next court appearance is set for July 30. "Mr. Weinstein did not invent the casting couch in Hollywood," Brafman said.
"Today's charges reflect significant progress in this active, ongoing investigation," Manhattan D.A. Cyrus Vance Jr. said in a statement. "I thank the brave survivors who have come forward, and my office's prosecutors who have worked tirelessly on this investigation. I would also like to thank Commissioner James O'Neill and our dedicated partners at the NYPD. We urge additional survivors and others with relevant information to call our sex crimes hotline at 212-335-9373."