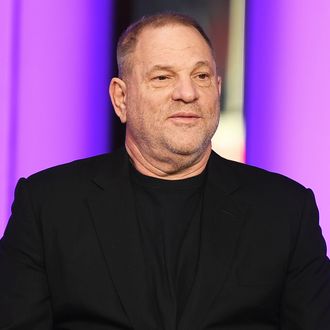 Photo: Dave Kotinsky/Getty Images for Spike
Harvey Weinstein has been pretty scarce since dozens of women started accusing him of various forms of sexual abuse and harassment last fall, but according to the New York Daily News, the former producer is planning to turn himself over to New York authorities tomorrow. Weinstein is being investigated by the New York Police Department and Manhattan District Attorney for crimes related to sexual misconduct, and the Daily News also reports that a grand jury was convened several weeks ago to hear evidence "related to possible financial fraud against Weinstein but it was not immediately clear if the charges include money mishandling allegations." Weinstein has previously denied any wrongdoing, and his attorney provided no comment on the Daily News' report.
Update: Deadline is reporting that Weinstein will be doing a very public perp walk when he turns himself over to New York authorities tomorrow morning. "This guy doesn't get to hide from the cameras for what he's done," a law enforcement source told Deadline, who added that he will walk into a precinct office around 7:00 am. Additionally, Weinstein will reportedly be booked, processed, and transferred in handcuffs to a Manhattan criminal court, where he will attend a hearing with the Manhattan District Attorney's office.
Deadline's source also relays that a $2 million bail has been negotiated between Weinstein's lawyers and New York City District Attorney Cyrus Vance Jr.'s office, and considering the former Hollywood businessman is considered a flight risk, he will reportedly have to surrender his passport, too. Weinstein is being investigated for possible financial crimes, as well as alleged sexual misconduct.