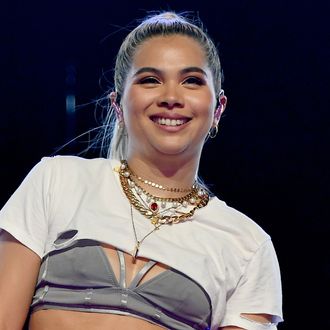 Hayley Kiyoko.
Photo: Frazer Harrison/Getty Images for Coachella
The topic of girl-on-girl has long been a staple of pop music, but as more openly queer artists make their mark on the industry, the more their perspective complicates the notion of singing about kissing a girl and liking it, just for the titillation factor. Singer Hayley Kiyoko, whose fans famously call her "Lesbian Jesus," took to Instagram on Friday to express her concerns about Rita Ora's new song "Girls" featuring Cardi B, Bebe Rexha, and Charli XCX. The song, Kiyoko says, offers a "tone-deaf" fantasy version of queer and lesbian relationships. Pointing to lyrics like "Sometimes, I just wanna kiss girls, girls, girls / Red wine, I just wanna kiss girls, girls, girls," Kiyoko says in part, "I don't need to drink wine to kiss girls; I've loved women my entire life. This type of message is dangerous because it completely belittles and invalidates the very pure feelings of an entire community." Writes the singer, "We can and should do better."
In an interview with People published Friday, Rita Ora said the song was inspired by Katy Perry's hit "I Kissed a Girl." When asked if she considered herself bisexual or fluid like the persona depicted in "Girls," Ora told People, "I think the way … If people look at it like that, it's very narrow-minded, and I don't think that's what this record is. I don't think that that even matters. Yeah."
Kehlani, a self-described queer performer, also took to social media Friday to voice her concerns about the song's "harmful lyrics." Tweeted the singer, "hate to be THAT guy but there were many awkward slurs, quotes, and moments that were like, 'word? word.'" Concluded Kehlani, "there. were. harmful. lyrics. period. " As of yet, none of the four women on the song have responded to the critique.
Update, May 14: Rita Ora has issued an apology in response to the "Girls" backlash, saying she has "had romantic relationships with both women and men" and that this is her "personal journey." She adds that the song was not intentionally meant to cause harm to the LGBTQ+ community.