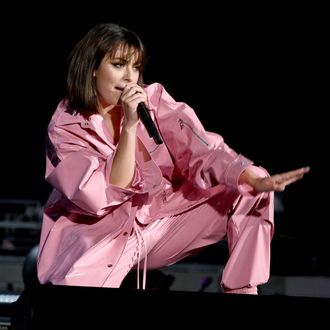 A bisexual "Lady Marmalade" for 2018.
Photo: Kevin Winter/Getty Images for TAS
If it's a battle of the sexes, Charli XCX is equal opportunity. Pop's savior has released the spiritual sequel to last year's "Boys," now aptly all about the ladies. The former was a solo affair, but "Girls" is a "Lady Marmalade" for 2018 that unites Rita Ora with her labelmates Charli, Cardi B, Rita Ora, and Bebe Rexha. Except we've now graduated from inviting men into the bedroom to fantasizing about tonguing down other women. Step into their bisexual lighting, the fluorescent aesthetic sure is flattering over here. If you've been busy thinking about boys, ruminate for a minute on your favorite girl Cardi humblebragging, "I steal your bitch, have her down with the scissor." Eeeeooowww!