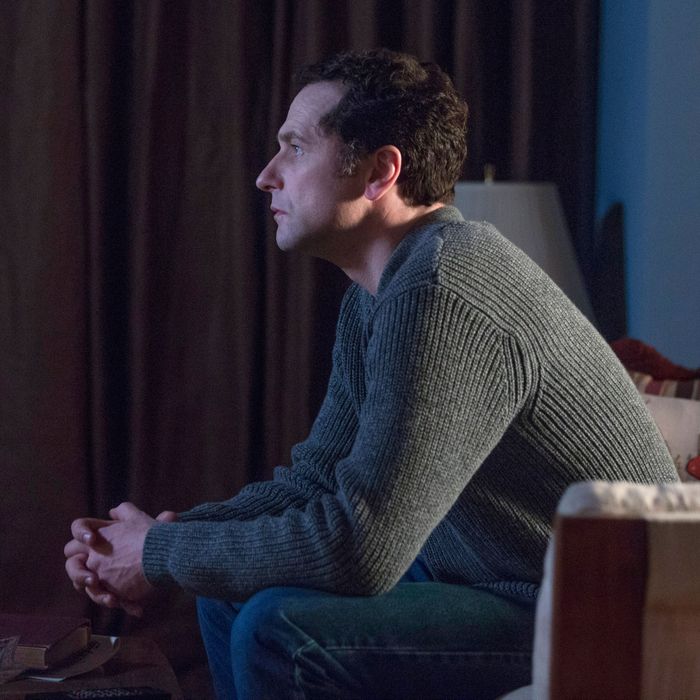 What do you do when your marriage is back on shaky ground because you've just told your wife you've betrayed her? If you're The Americans' Philip Jennings, you visit your ex-employee and tell him you're facing financial ruin, get fitted for a spiffy new suit, and rent a Russian movie to reconnect with your roots.
As the final season of the labyrinthine spy series winds down, it's hard not to read into the retired operative's every move — and in the antepenultimate episode, they were pretty perplexing. "His state of mind is complicated, as is often the case on this show," says co-showrunner Joe Weisberg, who, along with his partner Joel Fields, jumped on the phone with Vulture to help decode the ex-agent's erratic behavior. "On the one hand, he's wracked with guilt over his betrayal, on the other, he feels what he's been forced to do in Chicago, and over the years, is unconscionable."
Philip is also struggling to find himself in his marriage to a woman he loves, Fields says. "He asserted himself in an unconscious way by betraying Elizabeth, and now he's asserting himself directly by being honest about it."
Okay, but what's with the shopping spree and screening of the Russian film The Garage (Гараж)? A little digging reveals the Eldar Ryazanov–directed comedy is about a woman who takes on her garage collective after they've voted out the least well-connected members. When it was released in 1980, it was seen as a satire about a party member taking on the entire corrupt Soviet system — and promptly banned by President Leonid Brezhnev. Does the film that Elizabeth walks in on Philip watching — as she tells him The Center is trying torpedo the summit, and she wants to talk to his contact — provide clues to her destiny? We got Weisberg and Fields to spill a few state secrets.
Why does Philip suddenly go on a buying binge?
After once again saying sorry to Stavos, Philip inexplicably heads to the men's department for a new suit. Weisberg says his impulsive splurge is due to a "tremendous amount of pain and confusion. At that moment, he's almost as lost as he's ever been." What's a typically American way to make yourself feel better? A little retail therapy, of course. "So much of him has become Americanized that he wants to soothe himself by buying something," Weisberg says. "It's not the right thing to do, but he's not really thinking about that. He's just doing what many people do when they are in debt — spend money they don't have."
What prompted the ex-spy to get reacquainted with his Soviet side?
Later, Philip dons a disguise and heads to the local video store. Fields says consciously or unconsciously he's been "triggered" by Elizabeth telling him how much it's meant to her to spend time with Claudia and Paige listening to Russian music, eating Russian food, and watching Russian films. "In one of their conversations, they also accuse each other of not having been home in a long time, and not really being in touch with what people there think or want," Weisberg adds. "Philip rents the movie partially in response to that fact, and partly in an effort to reconnect with Elizabeth by finding out what she's been seeing and learning." Now they've also each broken tradecraft once. "Elizabeth brought Russian food home, which she shouldn't have done; and Philip takes it a step further, and brings a Russian film home," Fields says.
What's the Kremlinology behind Philip's film choice?
When Elizabeth comes home to Philip watching The Garage, she's just told Claudia she won't obey the order to kill the innocent arms treaty negotiator. Could the clip we see of the film's female protagonist Malayeva (Liya Akhedzhakova) standing up to the co-op be a foreshadowing of Elizabeth's future?
"We don't want to say too much about what people should think, or how they should interpret it," Fields says. "For us, that film does a really good job of giving a sense of the complexity of life in the Soviet Union — that it's not a completely rigid, totalitarian state. This would be quite surprising to Philip, and might inform him, and what he wants to do going forward."
While Weisberg admits the writers do "obsess over all these little choices," as a "general rule, we don't put in Easter eggs or secret statements for the careful audience member. So anything that seeps through is unconscious." What registers for Elizabeth, he says, is Philip doing this "insane thing of watching a Russian movie. She understands what that means coming off their fight, and their talks." And then there's Stan Beeman watching from his window, seeing the flickering TV screen though the Jennings' closed curtains. "So the triangle is really operating at a maximum."