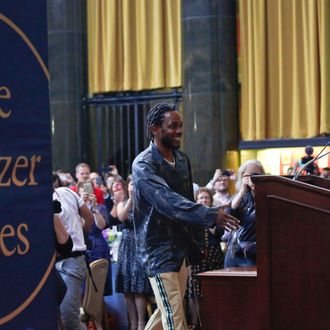 Kendrick Lamar.
Photo: Bebeto Matthews/AP/REX/Shutterstock
The recipients of this year's Pulitzer Prizes were honored today in New York City, and the belle of the ball was rapper Kendrick Lamar, whose album DAMN. was recognized for the 2018 prize in music. Other stars at the luncheon included Annabella Sciorra and Rosanna Arquette, who have both made public accusations of sexual misconduct against disgraced producer Harvey Weinstein, and who accompanied Ronan Farrow to the ceremony. Farrow received the Public Service prize for the sprawling New Yorker story that lit the fuse on both the Weinstein bomb and the #MeToo movement. Here are some looks from inside the event.
Farrow with Arquette and Sciorra, who both contributed to his investigative report.
And Farrow with his mother, Mia, who could not be beaming at him any harder.
And even though Arquette was there to support Farrow, there was apparently a long enough lull in the fête for her to dip over to the New York Public Library and register for a library card. Knowledge is power, kids.
But then there was Kendrick Lamar, who apparently had everyone acting up when he arrived.
He fielded selfie requests on his way into the venue:
And selfie requests from CNN's Don Lemon:
Even fellow honoree Farrow wanted in on the selfie game with Lamar, and they were joined by New Yorker editor David Remnick.
#MomsForKendrick
New York Magazine's Jerry Saltz, receiving the Pulitzer Prize for Criticism, even ended up with Kendrick's name tag — and may or may not have performed a cut from DAMN.