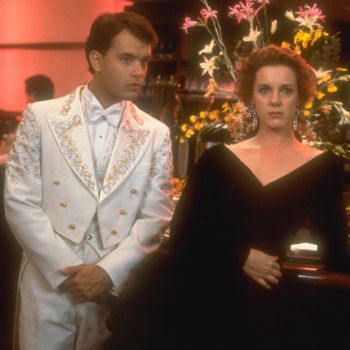 Tom Hanks and Elizabeth Perkins in
Big
.
Photo: Brian Hamill/20th Century Fox/Kobal/REX/Shutterstock
Nobody expected much from Big, and in retrospect, it's not hard to see why. When the coming-of-age comedy/drama hit theaters 30 years ago this week, it didn't sound like much: star Tom Hanks had banked as many flops as hits (recent lowlights included Volunteers, The Man With One Red Shoe, and the barely released Every Time We Say Goodbye), director Penny Marshall only had one previous feature credit (the middling Jumpin' Jack Flash), and screenwriters Gary Ross and Anne Spielberg were first-timers. Sure, producer James L. Brooks was a multiple Oscar winner, but when you're pushing a movie on the strength of its producer, you're in trouble.
Most distressingly, Big smelled like a photocopy. In one of those occasional instances of Hollywood parallel thinking (or perhaps something more nefarious) that results in dueling deadly-asteroid movies or competing animated-bug tales, Big was the fourth film in less than a calendar year that concerned a teenage boy's mind and soul inhabiting the body of a much older man. Like Father Like Son, starring Dudley Moore and Kirk Cameron, kicked off the cycle in October of 1987; Vice Versa, with Judge Reinhold and Fred Savage, followed in March of 1988; 18 Again!, with George Burns and Charlie Schlatter, was in theaters less than a month later. All received mixed-to-negative reviews, and by the time the third arrived, critics were already crying uncle. "Sooner or later, they're going to get this right," shrugged Roger Ebert, while the Christian Science Monitor was the most succinct, declaring the body-switch "a plot gimmick that may be ready to retire."
"These films come in waves," shrugged Like Father director Rod Daniel in Starlog magazine. "I don't know why that is. Every time someone comes up with a circus script, there are suddenly 25 circus scripts in town." Meanwhile, Vice Versa co-writer and co-producer Dick Clement claimed that film was somehow the freshest because it took its title and inspiration from a book written in 1888. (No one seemed to bother acknowledging the most direct influence: the mother-daughter body-switching comedy Freaky Friday, based on Mary Rogers's YA novel, a hit for Disney back in 1976.) Whatever the case, the fourth film in the cycle wasn't exactly keenly anticipated; the New York Times' big summer preview didn't even mention Big, focusing instead on high-profile sequels like Crocodile Dundee II and Rambo III.
And yet Big became the third-biggest hit of the season, behind Who Framed Roger Rabbit and Coming to America, its $114 million domestic gross more than doubling the combined receipts of its three predecessors. (Not that audiences were encouraged to make the comparison; as the New York Times noted, "Since 'Big' was the fourth movie in recent months to deal with body switching, and since none of the others did particularly well, Fox's advertising campaign made no mention of the subject.") It remains one of the most beloved movies of the '80s, long past the point at which Like Father, Vice Versa, and 18 Again faded from our collective memory. So what did Marshall get right that three other directors got wrong?
In his Big review, Ebert floats a convincing theory. Though Big was considered yet another "body-switching comedy," the label is, in this case, a misnomer; unlike the fathers-and-sons of Like Father and Vice Versa and the grandfather-and-grandson of 18 Again, Big's Josh Baskin (played by Hanks as an adult and David Moscow as a teen) doesn't swap bodies with an older character. He merely makes a wish upon a carnival machine, hoping against hope that he was "big," and the next morning, he is. "That's a useful inspiration," Ebert writes, "because it spares the filmmakers from the task of cutting back and forth between two different stories … Instead, we follow one character on his journey across the generation gap, and because there's more time to develop his dilemma, the movie is more persuasive."
That's one of many achievements of the warm and sensitive screenplay, co-written by Gary Ross (who went on to write Dave, write and direct Pleasantville, and direct the first Hunger Games and the new Ocean's 8) and Anne Spielberg. She and Ross plotted out the story in about an hour, she said on the film's press tour, and knocked out the screenplay soon thereafter. "We finished typing the screenplay on a Tuesday," she recalled. "We immediately submitted it to Twentieth Century Fox, and by Friday we had a deal with Fox and Jim."
This was 1985, and that was the last thing that happened quickly. "Jim" was James L. Brooks, television stalwart and recent Oscar winner for Terms of Endearment, who embarked on a two-year process of writing and rewriting with the duo. "There were not other projects like this out there when we started," he explained, pointedly, in the film's press notes, "but we moved at a very deliberate pace, and then about six months after we started we became aware that there were other projects. At that point the decision was whether to hurry and make a race out of it or to do it in our time."
The preproduction period was also extended by the hunt for an appropriate director and star. Unsurprisingly, Anne Spielberg slid the script to her big brother Steven; she confessed to Premiere, "I always write boys; maybe I'm always writing about Steve." He reportedly contemplated directing, and casting Harrison Ford as Josh, before bowing out to make another young male coming-of-age story — his adaptation of J.G. Ballard's Empire of the Sun — instead. The notion of Spielberg, circa 1987, directing a film about an adolescent trapped inside a grown man is, to put it mildly, tantalizing. ("Did Spielberg protect his innocence by losing himself in someone else's childhood?" mused the Village Voice's Jim Hoberman).
So Brooks handpicked Penny Marshall to direct, offering something of a do-over to the actor turned filmmaker, who was originally set to make her feature directorial debut with Peggy Sue Got Married, the story of an older woman who wakes up in the body of her younger self. But "creative differences" led Francis Ford Coppola to take over the project, recasting Kathleen Turner in the leading role that Marshall had earmarked for Debra Winger. (When Big was released, Marshall told the New York Post that Winger suggested switching the gender of the lead character. Marshall explained why she didn't: "It's a little more acceptable that a 13-year-old boy has an experience with a woman. The other way it's impossible, it's Polanskiville.") Robert De Niro, looking to expand into comedy, briefly courted the leading role before choosing Martin Brest's Midnight Run; he and Marshall would instead collaborate on her next film, the 1990 drama Awakenings.
Finally, the filmmakers landed on Hanks, who had just made a significant dramatic breakthrough with his role in Nothing in Common, directed by Marshall's brother Garry. He may have been third choice (or less; Jared Rushton, who plays Josh's buddy Billy, told the New York Post he also read with Richard Dreyfuss and Sean Penn), but the impossibility of imagining anyone else in the role speaks to the quality he brought to it: an innocence, an openness, and a refusal to wink at the material. He's uproariously funny in the role — see the specific emphasis and flawless timing in his reading of "I get to be on top! — but we knew he could do that. The performance sings when he's called upon to play the genuine emotional conflict at its heart, so by the time we get to the end, the tenderness of his relationship with Susan (the perpetually undervalued Elizabeth Perkins) creates real stakes and suspense, rather than the expectedly clear-cut, everything-will-be-better-when-it-goes-back-to-normal narrative logic.
But the scene that most clearly articulates the quantum leap in quality between Big and its "body-switching" contemporaries comes fairly early. Grown-up Josh and best pal Billy have traveled from the Jersey burbs to New York City to track down the magic carnival machine. They find an affordable room in a fleabag Times Square hotel, but Billy has to get home by curfew. "I don't wanna stay here by myself," Josh objects, not unreasonably, but he must. And after Billy leaves, Josh curls up on the ratty mattress, overcome by the sounds of shouting in the hallway and shooting on the street, and he sobs. Marshall fades out on that image: a 12-year-old boy (no matter the body he's in), all alone, absolutely terrified.
It's a heavy scene. And it's a scene that deals with the implications of this improbable scenario in a way the other films don't; they don't have room for it. These were "high-concept" comedies, with premises that you could sum up in a single line of ad copy or a simple poster image, and they didn't bother to delve deeper. Big may not fully acknowledge the complexities of its situation — there's this whole other, darker movie happening back home, with Josh's frantic mother sitting by the phone in fear while he and Susan party on his Soho loft trampoline — but it at least transcends sitcom gimmickry.
But the central question remains: Why, with (presumably) no knowledge of each other's activities, did so many filmmakers land on this particular story, at this specific moment? A clue comes in one of Big's few negative reviews. In the Chicago Sun-Times, Lloyd Sachs wrote, "Like Vice Versa and Like Father Like Son before it, it's too involved in administering its reversion fantasy of acquisition-guilty yuppies to cast an eye on its own venture status." Wherever you land on Big, the common thread holds water — the main characters of the earlier films are, indeed, uncaring, work-obsessed yuppie dads who require a shot of their sons' gee-whiz enthusiasm and carefree innocence to reconnect with their younger, better selves. Big doesn't preserve the full-on body switch, yet it too includes a bitter, soulless, humorless company man (the late, great John Heard) as the designated empty yuppie, to act as a foil and counterpoint to our free-spirited protagonist.
While Big was shooting in New York in the fall of 1987, the stock market crashed. October 19, a.k.a. "Black Monday," marked the largest one-day drop in the history of the Dow Jones Industrial Average (a record it still holds), but more than that, it marked the spiritual conclusion of the go-go '80s, in which the children of Woodstock decided not to turn on, tune in, or drop out, but sell out, going into law or finance or advertising — y'know, grown-up jobs. By the time Big hit theaters the following summer, they may have regretted those choices. But it whispered to them, ever so gently, that maybe it wasn't too late to save their souls.
It probably was, of course. But it's a nice thought.