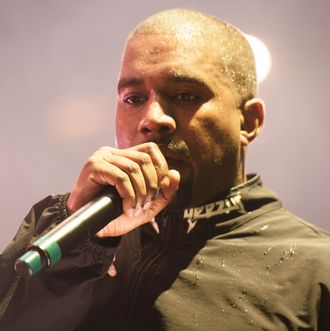 It's always something new with this guy.
Photo: Dave Kotinsky/Getty Images
Kanye West has premiered albums at Madison Square Garden, off sides of buildings, and even told you one was ready for streaming by blurting it out on SNL. For his latest album, YE, he's gonna be all Silicon Valley about it. He's holding a listening session that will air live at midnight on an app called Stationhead, which is described as a "social radio" app that counts Wu-Tang Clan's Raekwon as an investor. There, you'll get to hear the album and participate in a live public discussion about the album. How this works is you download the app — but only for iPhone users, sorry — launch it at midnight, and, voila, presumably you will be in. (They haven't specified whether or not you need to be signed up or have a subscription — probably best to have a login prepared — but Stationhead can also be accessed via your Spotify and Apple Music accounts once you're logged in.) We'll notify you when and if the album hits all the other apps you already have on your devices.
You can also livestream Kanye's official listening party, being held in Jackson Hole, Wyoming (where the album was recorded), on WAV, per Kanye's instructions. The stream will begin at 10 p.m. ET.