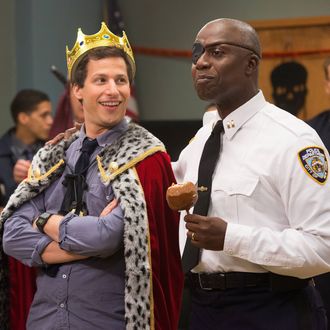 Photo: FOX/FOX via Getty Images
Today a great cry rose up from sofas everywhere as news spread that Fox was cancelling its cop comedy Brooklyn Nine-Nine, starring Andy Samberg, after five seasons. And by that we mean it was the No. 1 trending topic on Twitter and both Mark Hamill and Lin-Manuel Miranda tweeted about it. There's been more sad buzz around the show's ending than a gothic beehive, but still, there is hope. Deadline reports that Hulu may be considering saving the show, just like they did with The Mindy Project, another fan favorite that was axed by Fox.
Both Mindy and Brooklyn are produced by Universal TV and 3 Arts, so the way for this deal has basically already been paved. But even if it all falls apart, Hulu isn't the show's only option for a comeback. There could be another home for the show at TBS, where the show is already running in syndication. And Kevin Reilly, the current head of the network, was actually the executive who initially helped develop the show. So keep it up, Brooklyn Nine-Nine fans, it seems like this might be the one thing that can be changed through online outrage.
Update May 10: The Hollywood Reporter is now reporting that both Netflix and NBC have also expressed interest in reviving the series.
Update May 11: Okay, well, according to TVLine, Hulu is reportedly uninterested in saving Brooklyn Nine-Nine. The search for a new home, however, continues.