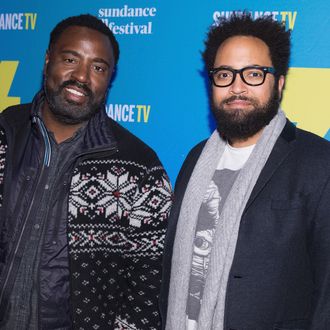 Photo: Mat Hayward/Getty Images
Actors, writers, and frequent collaborators Bashir Salahuddin and Diallo Riddle (Late Night with Jimmy Fallon, Maya & Marty, The Last O.G.) have a new show heading to IFC. The network announced today that it's ordered a musical variety sketch show from the duo titled Sherman's Showcase, which counts John Legend as an executive producer. The project has been in development at IFC since last summer.Here's more on the show from the press release:
Drawing inspiration from the likes of Soul Train, American Bandstand, The Midnight Special and In Living Color, each episode of Sherman's Showcase is hosted by Sherman McDaniel (Salahuddin) as he takes viewers through time via music and comedy drawn from the forty-year library of a legendary (but fictional) musical variety show. Whether it's a questionably attired funk super group in the 1970's, an up-and-coming MC in the 1980's or an R&B diva from the 1990s, Sherman's Showcase has it all: music, comedy, games and dancing, with an exuberant host who's been with the show throughout its run.
"We'd like to thank IFC for believing in Sherman's Showcase. People think of us as comedy guys, when in fact we're really just frustrated rap-singers that never got signed to Murder Inc," Salahuddin and Riddle said on the news. "But now we finally have a platform for all the songs that were ever rejected in our career. We've always stayed music adjacent… from our early web series to Fallon, from Maya & Marty to endless award shows hosted by Drake, we have always tried to do what Christopher Guest, the Lonely Island and the Muppets do so well… but 'black.' So, in the words of the great Chamillionaire, 'they see us rollin'…they hatin'.'" The show will make its IFC debut sometime in 2019.
In addition to the IFC show, Salahuddin and Riddle also have a series in the works at Comedy Central called South Side, which was greenlit back in October 2017.