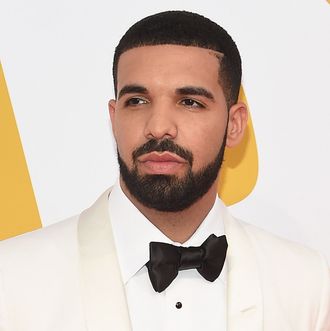 Drake.
Photo: Jamie McCarthy/Getty Images for TNT
The world has been waiting with bated breath for Drake's response to the epically scalding Pusha-T diss track "The Story of Adidon." And now finally, the Canadian rapper, who was called out for "hiding a child" and whose parents and best friend were both targeted in the track, has released a statement defending … the cover art of himself in blackface.
In a screenshot of what appears to be an Apple Notes document posted to his Instagram story the rapper writes, "I know everyone is enjoying the circus but I want to clarify this image in question. This was not from a clothing-brand shoot or my music career. This picture is from 2007, a time in my life where I was an actor and I was working on a project that was about young black actors struggling to get roles, being stereotyped and type cast. The photos represented how African Americans were once wrongfully portrayed in entertainment. Me and my best friend at the time Mazin Elsadig who is also an actor from Sudan were attempting to use our voice to bring awareness to the issues we dealt with all the time as black actors at auditions. This was to highlight and raise our frustrations with not always getting a fair chance in the industry and to make a point that the struggle for black actors had not changed much."
Too Black Guys, the clothing brand initially thought to be involved with the photo, has also issued a statement defending the blackface. They confirm he is wearing one of their shirts, but say the photo was not taken for their brand:
The photo in question was not from a Too Black Guys photoshoot however it did feature clothing from Too Black Guys' JIM CROW COUTURE/HOUSE OF CROW collection which was released in 2008. The collection featured several graphics that highlighted the painful and dangerous period of the Jim Crow Era.

 

Too Black Guys has a history of representing the black experience in an unapologetic way. Although this was not an image from any of our photoshoots, we feel that Drake, who is a long- time friend of the brand, was brilliantly illustrating the hypocrisy of the Jim Crow Era.

 

The subtleties of Drake, a young black man, mimicking how white men used to mimic and dehumanize black people may be lost in a rap battle but we should not be distracted from the issues that are still affecting our communities.
Pusha-T has now responded to Drake's explanation, telling radio host Big Boy, "That doesn't change my view at all … You are silent on all black issues, Drake. … You don't stand for nothing, you don't say nothing about nothing. You have all the platform in the world. You were so passionate back then? No you weren't. That's number one. That's what I know."