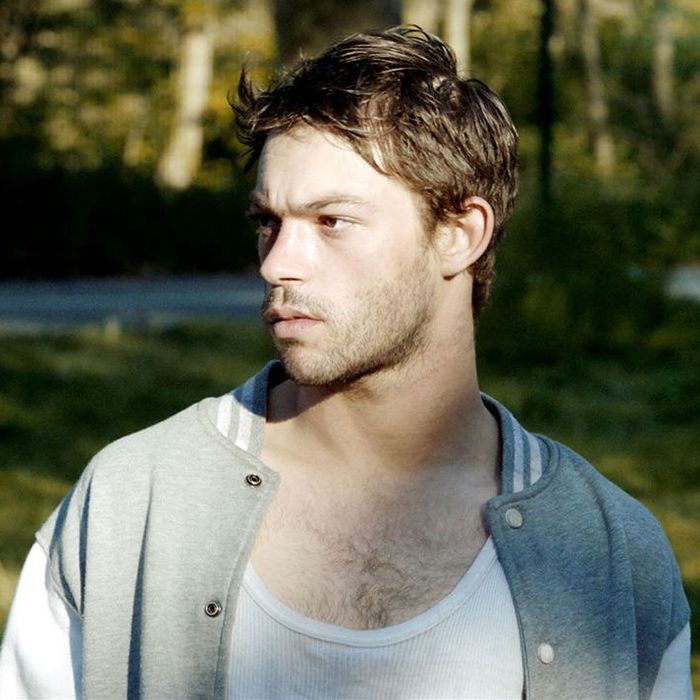 Photo: Pyramide Distribution
In addition to making a strong directorial debut with the new film Sauvage, Camille Vidal-Naquet has something else worth recommending: He can talk about the camp classic Showgirls as though it were a sacred academic text.
"I have always admired the way Paul Verhoeven directs the actors and leads them to this shamelessness with their bodies," Vidal-Naquet told me on the beach at the Cannes Film Festival, where Sauvage premiered yesterday as part of the Critics Week program. "Bodies are just a uniform they wear, and they don't care."
It's an attitude adopted by the French actor Félix Maritaud (BPM), who plays Leo, the protagonist of Sauvage. Leo is a 22-year-old male prostitute who offers up his body without guile, wanting little from his clients besides a fleeting touch or kiss that feels like love. It's an exposed performance in every way, as Maritaud is astonishingly vulnerable or unclothed in just about every scene of this sexually frank film. Whether he is navigating a threesome with a disabled client, collapsing on a street corner, or literally throwing himself at the man he carries a torch for, "I had to give my whole body to make this guy live," Maritaud told me on the beach, as he buried his feet in the sand.
Explicit films are common in Cannes, where directors can make their work without fear of the censorious MPAA ratings system that Americans are subject to. It's hard to imagine a U.S. director tackling the sexuality of Sauvage with the same unblinking eye, or an up-and-coming Hollywood actor who'd treat full-frontal nudity with nonchalance. Vidal-Naquet and Maritaud say they both had no hesitation.
"Nudity had to be normal, it had to be considered as work," said Vidal-Naquet, who first hired a choreographer to work with Maritaud and the other young actors playing prostitutes. "It was like a workshop for them to use their body. It gave them some distance. Their body is just a tool for art."
As for the sex scenes, which range from mild to wild, "There was no negotiation because everybody knew what they had to do," said Vidal-Naquet. "It was very simple: We tried to deal with the sex scenes exactly the same way as the other scenes. It never happened like, Now is the sex scene."
Still, not everybody in the Cannes audience could handle some of Sauvage's most explicit encounters. At one point, Léo goes home with a city-dwelling couple who treat him like an unthinking animal, making cruel cracks about his appearance and inspecting his teeth as though they were checking the quality of a product. It's hard to watch this happen to someone as open-hearted as Léo, and that's even before one of the men orders Léo to get on all fours, then begins to lube up a gigantic, intimidating butt plug which he will wield almost like a weapon. A few of the women behind me fled the theater at that point, but Vidal-Naquet said such a scene was necessary.
"It wouldn't be honest to make a movie about prostitution without talking about these kinds of things," said the director, who spent three years researching his film by meeting with male prostitutes who work the Bois de Boulogne in Paris. "There are clients who can absolutely dehumanize you and treat you like a total object on the pretext that they've paid you and they own you. I found that so violent."
It's a life of extremes, said Vidal-Naquet. "For a boy who hustles in the street, there is this contrast where you can sleep on the ground, but 20 minutes later, you can be in a palace with an extremely rich client. They have so much less than we have and also so much more."
Sauvage's juxtaposition of the cruel and the compassionate may not be for everyone, but those who can handle it will be moved. There's a scene where a doctor physically examines Léo and he embraces her without even thinking, so desperate is he for any sort of gentle affection. After the premiere of the film, Maritaud found himself playing the other role of the comforter. "There was an American actress coming out of her seat, and she was crying, watching me," he remembered. "She said, 'Thank you,' and I just took her in my arms. It was so strong and so beautiful and honest."