The plan was simple: five projects in five weeks. New Pusha-T, Kanye West, Kanye and Kid Cudi, Nas, and Teyana Taylor albums, all produced in full by Kanye West, would be released in the space between the end of May and the end of June. The idea seemed daunting; Kanye fans know the stresses of a single album rollout and the low-grade mania that follows when the man tries to put out two or three things at once. But this time, West convinced everyone to workshop just seven songs — thinking the pruning would tighten up their efforts while easing his own burden — and got to work. Then he started talking about politics again, and things got hairy.
Pusha-T's Daytona was the first of the bunch to be released. It's the Virginia rapper's sharpest work in years. In just seven songs, he paints vivid pictures of the triumphs and pitfalls of a hustler's journey, lounging in smirking disbelief at finding himself still standing 20 years into a career in mainstream rap that survived the slow destruction of his group the Clipse, the prosecution of a once-close business partner on drug trafficking charges, and the loss of a tour manager who was stabbed to death walking a woman to her car outside a bar. Pusha's run at G.O.O.D. Music, which spans the formidable full-lengths My Name Is My Name and King Push: Darkest Before Dawn in addition to Daytona, is the kind of career renaissance usually reserved for beloved rock stars of yesteryear. The acclaim showered on it over the weekend by fans, critics, and other rappers is more proof there's still space in rap's mainstream for intricate rhymes and diced-up soul music.
Push has given the G.O.O.D. guys a grit they lacked in the label's first five years, when Ye, Common, John Legend, and Kid Cudi shifted the temperament of mainstream hip-hop across influential releases like 808s & Heartbreak and Man on the Moon: The End of the Day, while perfecting their trad-rap and soul foundations on Be and Once Again. You can hear the change in tracks like "Take One for the Team" and Cruel Summer's "New God Flow." You can feel West and his collective being pulled back to rap's coarse, streetwise essence. You can hear the head honcho catch a glimmer of the old fury, smirking between Swizz Beatz howls and Havoc drums on "Famous."
In person — stopping by New York's offices the day before the release of Daytona and the ensuing diss-track drama enveloping himself, Kanye, Drake, and now, Kim Kardashian and Rhymefest — Pusha-T hesitates to take credit for the shift in G.O.O.D. Music's tone: "Street hip-hop has always had a place, and I always had a fanfare with everybody, because hip-hop started as a street thing. I'm just representing that at G.O.O.D," he says. It's one of the few times he'll venture toward humility about his craft in our half-hour conversation. A rapper on top of his game is a pillar of confidence.
We talked about the unique relationship between G.O.O.D. Music's founder and its current president, about how Kanye pitches lofty dreams, and Pusha tries to get them to scale, or at least bestow a sense of possible consequences on his collaborator. We spoke about Drake and "Infrared," Daytona's response to the Canadian rapper's challenge to his street bona fides on 2016's "Two Birds, One Stone," and whether or not he's prepared for just how hot the summer of 2018 could get. As G.O.O.D. Music's very own sharp-tongued Cerberus, Pusha-T can't wait.
So, you put the hyphen back in your name.
Okay.
I'm wondering if you're signifying something with that. I know when Jay put the dash back in before the Z, he was essentially saying, "This is my best record in the last ten years," so I'm wondering if you're trying to tell us that [about Daytona].
You know, I feel like people were so King Pushed out, that moniker really stuck with me on the streets, King Push, King Push, King Push. The album's supposed to be titled King Push, King Push, King Push. When I made the name change, I was like, "Man, I have to do everything I can because you know that message means a lot." I figured if I just took my name back to the basics in every way, how they see it, so on and so forth, it would help bring energy and project that energy onto Daytona.
You called it your Purple Tape. That's going to turn some heads. Do you want to elaborate?
Oh, well yeah, the Purple Tape, Raekwon's Only Built 4 Cuban Linx, is like the Holy Grail of rap albums to me. I was striving to do my best rendition of that. I wanted to just harness that energy. You know, when I was listening to the Purple Tape, it motivated me to go outside, get some money. You know what I'm saying? Do whatever I had to do to be able to compete in the world of the streets. Depending on what car I was in, the Purple Tape motivated me to get the next car. You know, the car on the block with the hottest sweatshirt, sneakers, whatever the case may be, and just really, the driving energy of that album was something that told me subconsciously to keep propelling, keep going, keep going, go faster, go further, go harder. I was trying to emulate that here.
You have some mafioso talk on here, like Raekwon. And Kanye is giving me RZA vibes with those beats a little bit, especially "Games We Play."
Just to give you the backstory, in Wyoming, one of the first sessions, we had to make song lists. So, I made a song list of 25 records or so. And, I remember what we really clicked at was, on my list was "Devil's Pie" by D'angelo and [Raekwon's] "Glaciers of Ice." Within that, was "Incarcerated Scarfaces" [also by Raekwon] and a host of other records. R&B records. Faith Evans … So, what did make it on mine and what was an amazing groove? During this one particular session, I remember we got maybe one or two of my records, "Games We Play" being one of them, and then we found five or six of Teyana's album, probably like four or five. So, that was the process. when you say you hear him or you say he got in his RZA, so on and so forth, I just wanted to tell you how that even occurred.
I'm wondering how you get that guy to keep that energy for seven whole songs. Usually you'll hear him do one old-school chop, and then the rest of the album will be outer-space sounds.
It's the gift and the curse of myself and Kanye. Kanye likes to hear me one way. One way. I mean, he's made some great melodic records in his day. Pusha-T will probably never get one of them. And, I be pissed about it sometimes. But, you know, when he's in that zone and he feels like he's making … A zone like this, where he's like, "Yo, I'm gonna do all the records." You sort of let him steer the ship.
He's making all the records for everybody?
Yeah.
Okay.
Yeah, so when people talk about the seven records, people talk about the seven records, another insight. Understand that we're in Wyoming, we're at a resort, eight- to ten-thousand a day. Now, we had been out there for … I mean, you hear about …
We've been hearing the whispers.
Yeah, for a long time, right? So, that's 35 records, 35 records. I can tell you that "Games We Play" came on day seven.
Early.
Day seven of the one week of us just sitting out there. Can you imagine like … Now, mind you I gotta pay [for] half of this stuff, so I'm like, "Okay, we're on day seven, bro, we ain't got no beat yet." But, that's him going through a thousand samples, a thousand chops. Chop number 647 is "Games We Play." So, we're nailing it when we get it, but it is a process to get it. So, to get seven of them for one person, then you gotta find seven for another person, seven for another. Like I said, it ends up being 35 songs.
Are you doing this to push a conversation about quality over quantity?
Well, when it was brought to me, about seven, I was totally against it. I was like, "No, man, I got a whole full album right here. What are you talking about?" And, [Kanye's] like, "What's a full album? What do you think a full album is? Tell me what a full album means. What is that?" He was like, "I think, in seven songs, you can get everything you want off, and we can have the most concise, strongest project ever." And, I was like, "You're doing sevens?" He's like, "Yeah, everybody's doing sevens. I'm doing sevens for everybody." He was like, "And, you're first." I said, "Oh, I'm the guinea pig? I got you …" And, I was very wrong about the seven not being enough. I had to email him that yesterday or the day before. Very wrong. Seven's very much enough, and I also like the fact that I feel like the trend in rap is like put a whole bunch of songs on your album, and get your streaming numbers up. That looks a little cheap to me.
Well, there's two ways to get that. You make a project that people wanna hear, and replay at the end of it, and you can still get those numbers. I'm thinking about what you said about "the gift and the curse" of your relationship, though … I'm curious if static from the public just comes with the territory of working with Kanye.
I think … What my role is, at G.O.O.D. Music, and being the president of G.O.O.D. Music … a lot of times it comes with taking shots, you know? A lot of people within the camp, they get to smile and shake hands and so on and so forth. For me, I came into G.O.O.D. Music with a brand, a brand that speaks to respect, loyalty, you know, honor, just honor, whatever it is. So, I have to bring that, I bring that into G.O.O.D. Music. Outside people, influences, I'm on G.O.O.D. Music, you can't disrespect G.O.O.D. Music in any way, shape, form, or fashion with me here, because now you're disrespecting me. So, yeah, being with Ye, you get a lot of flak. You get a lot of flak especially just recently, with the comments and statements he's made.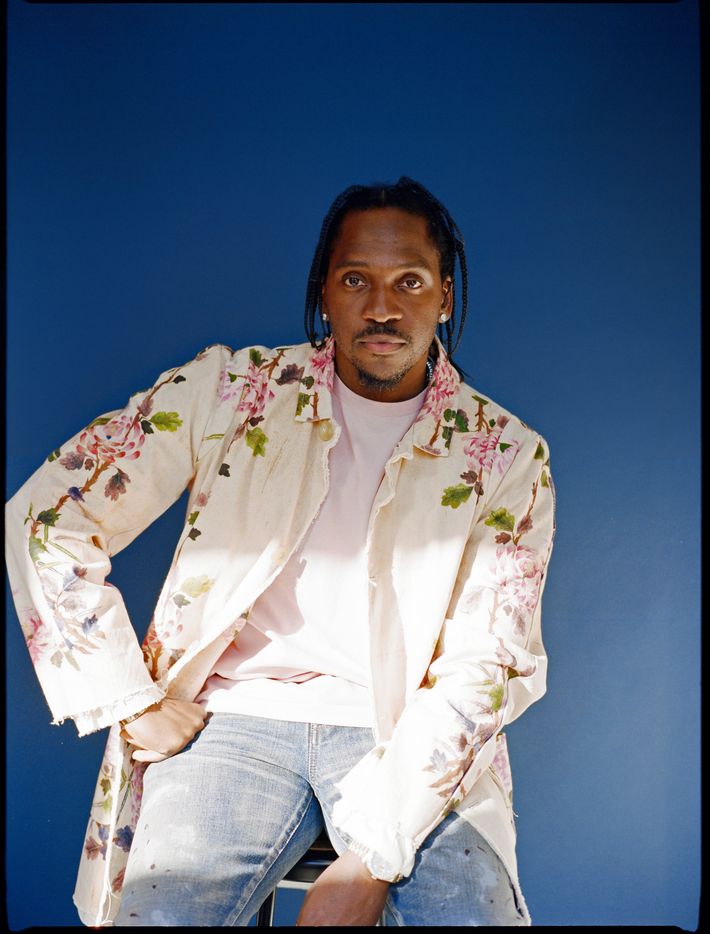 Does the flak feel different this year than it has before?
It definitely feels different because sometimes it's just music flak and music flak is just great.
You can deal with that because …
Yeah, we can deal with that.
"Oh, you don't like it? Okay …"
That and also it's flak that I don't agree with as well. I'm like everybody else, I'm like, "Bro …"
"What are you doing, bro?"
Again, this part of our dynamic, one of many things we don't agree on. One of many things we don't agree on, one of many things that we can talk, but we talk openly about. One of many things that … Being the president of G.O.O.D. Music, that's why I think I'm there. I always give the other point of view. Everybody says, "Ye!" I'm like, "No, why? Why we doing that? What's going on? No, man." Or, like, "This is how people are gonna look at this." And, being on a ground level with people, I can articulate that back to Ye and the whole collective that goes into a lot of the decision-making process.
Going back to what you said about taking shots, I wonder if you feel like your label's designated shooter sometimes. It feels like sometimes you sacrifice your peace to have other people have theirs.
Always. I feel like that's always it, that's always it. And, it's fine, it's fine, but that's definitely always the case.
I couldn't do it. I respect it. So, is King Push something you still maybe want to revive down the line, like how Dr. Dre gave us Compton before Detox?
No, listen, King Push was nothing more than the title. It was coming after Darkness Before Dawn, King Push, superhero rap shit, supposed to boom! King Push! That made sense. Taking this hiatus, this time, and crafting this, everything that's went on, so on and so forth, I feel like it didn't speak to the process and the story-making process of the music. I titled it Daytona because the Rolex Daytona's my favorite watch. And, I feel like me and Ye are letting the world see that this album is us having the luxury of time to create it. A lot of people don't have that luxury, a lot of people gotta keep throwing out … [repeatedly slaps one hand into the other] trash, whatever the case may be. We really crafted this.
I would have guessed that Daytona was about that Scarface, Cocaine Cowboys energy.
Nah. No, man, it's about the luxury of time, having the luxury of time. Sometimes, I think, you can go on Instagram and see 50 guys counting $1,000,000. You have to find a new way to brag, you have to have something else you have to brag about, for me, anyway. It's like, okay, we're all millionaires. We all have it. That's been cool. So, now what are we gonna do to … What else can we convey? Okay, well we're gonna convey comfort, and we're gonna show you how comfortable we are by taking this time. And then when we do drop it, you should see what it was worth. And, I'm happy with it, man, I'm extremely happy with it. I don't know if there's another street hip-hop album that's got this.
This year, I might agree. You were talking about finding ways to brag differently, and I feel like that's something you talk about a lot, in "More Famous Than Rich" and "Games We Play." People posting up the image of wealth but not actually having it. I guess the question is, do you feel like rappers are, by and large, more concerned with appearances than reality. Does authenticity still matter?
Well, authenticity definitely doesn't really matter in rap anymore. I feel like the business has spilled over into a lot of … The business is no longer just in the labels. The business is now in the neighborhood. People talk about, "Hey, you know he make this much …" That's how the neighborhood talks. Where it first started out, "Yo, that album hard, that album is crazy, the beats is crazy. Yo, I mean, lyrically, he's untouchable." You know? It was that. Now, it's like, I'll say, "Man," I'll go to one of my homeboys, "Yo, lyrically you cannot see that kid." And, he gonna say, "Man, he ain't got no damn money."
Or they'll be like, "They ain't got no bodies."
You know what I'm saying? [laughs] I'm like, "Whoa, bro, I said he was talented!" You know, I feel like a lot of that spilled over. I think authenticity does count. I think it does matter in the grand scheme of things. But people who casually are listening to music … Or, fans, just fans of music, they like it in bulk now. And you can get past some of the things that aren't as authentic. You can get past that by just having a flurry of a lot of music.
So, you're a rapper that people describe as sort of traditionalist, which strikes me as weird because you're a label president who signs non-traditional artists like Valee and Desiigner. Do you feel like the division between fans who listen for bars and fans who listen to the party stuff is stupid?
Yeah, man. I mean, I can go on my comments [on Instagram] any day, and somebody will say something weird about a signing that I've done. Any day. They'll be like, "Why would you sign that? That ain't pure hip-hop," and so on and so forth. Oh, even better yet, forget that. God forbid, somebody drops an album, and I like a record on the album, and I post it.
They're stalking it.
Bro! "Man, what's wrong with you? How dare you like him?" I'm quoting lines, "Yo, that was ill line, man … You said this." Whatever. Boom! I put it out there. "Yo, you're so stupid, Pusha. Pusha, how dare you? You going through a midlife right now?" I'm like, all right, guys.
I guess on the fan side, we see rap labels kind of like fraternities. You know, when you say "Kappa," people envision something in their head. And, for a long time, when people saw G.O.O.D. Music, they would think about the "conscious" smart stuff. But, I feel like you're trying to change that image and make it more accessible to what people are about right now.
I don't think that I'm trying to change the image. I think that there is a— with what I do: high taste level, luxury drug rap … With what I do … It's best presented in a high level of musicality and production. Whether it be Ye today, whether it be Pharrell and Chad tomorrow, or yesteryear. It was always synonymous with that. Now, with that being the case, you have guys like Kanye West, who probably came in the game producing, fans of the Native Tongues. Street hip-hop has always had a place and I always had a fanfare with everybody, because hip-hop started as a street thing. I'm just representing that at G.O.O.D. Musicality and all that shit is high level. It just meshes well, blends well. I get to stick out like a sore thumb in the music business.
The weird thing about you specifically is … It's weird for people to be like, "He's a traditionalist." I remember 10, 15 years ago, when people were saying, "Oh, the Clipse is bad for rap." "Oh, the Clipse is bringing this drug stuff into the culture." It's weird to see that turn on its head.
And, listen, the drug culture in rap is rampant these days.
They're doing stuff I didn't even know existed now.
It's so rampant these days that I'm just like … I mean, I remember doing this, like, cocaine rap — [Imitates the voice of a sensational newscaster] Coke rappers! I remember that term, and it was like berating, and just … Now …
… There's kids named after pills!
Yo! And, I'm not knocking any of it. I'm just saying I remember being shot at about it. Like I would be shot. Me and my brother were being shot.
And, now it's just the way things are.
And, now it's just the way things are.
You were bringing bars to it.
Writing bars, writing new fundamentals, similes, metaphors, the comparisons, the unorthodox comparisons. Still the art, still the art of rap. Street culture was just the common thread.
So, you have a line about the colorful dreads. Tell me about that.
Oh, you know, I just said I feel rare in this. "I'm too rare in this world full of pink hair."
Somebody going to take that some way. [Pusha begins to shrug]
There's a lot of pink hair … Oh! Ye was like, "Hey, man, what do you think about that? You think you should change that? Not just because I have pink hair." I said, "Oh, do you have pink hair today?" He was like, "It's blond …" I was like, "Oh." He said, "One of my best friends, he dyes his hair, too." I said, "I want you to understand the two types of people out here. You have guys that do [the pink hair]. And you have rap fans and rappers that I admire and look up to — those young guys, the A Boogies, the Don Qs, the Meek Mills — that speak for another section. I feel like my energy leans towards more of that side, the elder of that side." If you're a rager, if you like to rage and go "Aaaaah!" [shakes his fists skyward] Jump out, and you do all that … I feel like that's for your side. And, I feel like your side is making a lot of noise. So, "I'm too rare in a world full of pink hair" means "I feel like there's more of you guys than there are of us."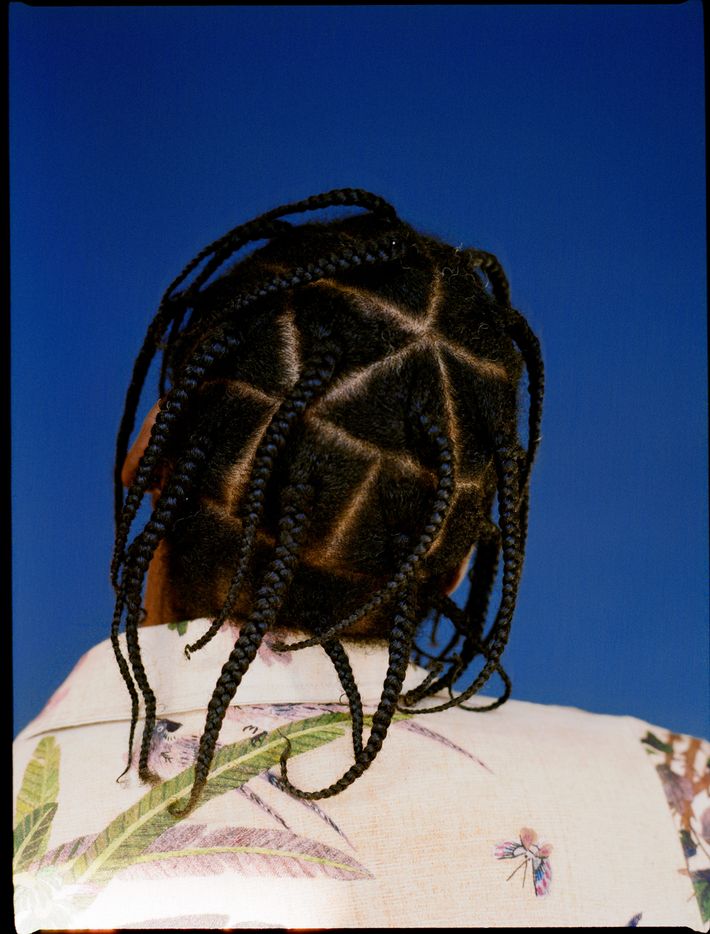 You're in a rare position right now, because you get to concentrate on craft and not really chase trends, not really try to track down whoever's the hottest artist. How does it feel?
It feels pretty good, man. Feels good to be able to just make music that I feel. I don't have the pressure of trying to please any more than my core [audience]. I remember Jay-Z making The Black Album. I was so hurt at the chatter around The Black Album because of how I looked at Jay-Z, and how I look at him now, still. He was the hood hero, made it, independent, label, whatever. By the time he got to The Black Album, Jay-Z was talking about Will Smith money … I felt like, "Man, he fucking made it. He made it, right?"
And, then he starts talking about The Black Album and was like … [whispers] Okay, this is dark. Then he starts talking about [how] it was the last one. And, I was like, "So, wait a minute, you mean to tell me, you finally get to make —" And, I don't know what he had to go through compromise-wise, but he always had singles, he always had this, he always had that, soundtracks that played in the clubs, setting up the albums, that whole discography.
He got to this Black Album and told me — I internalized it like he was just talking to me personally, as a fan. "Oh, man, I'm gonna do this one album … [for] the streets, speaking introspectively, and that's it. I got one of those." I'm looking at him like, "Man, you've achieved … you made it!" Now I'm thinking, "You could make this record nine [more] times for me. I'm good." Even Em. I remember wanting a Lyricist's Lounge–level album from Eminem. You know what I'm saying?
I feel like we all still would take that. He'll do two joints on the record where we'll be like, "That's the energy." And then he'll get back to his usual sound.
I'm not at that level of success, money, anything. But I feel like if I was, and I wanted to make records, I would still be in the space that I'm in now. I feel like right now, I'm just like … Man, I'm talking to … I'm talking to these guys over here. You guys are welcome to come over … First bar when the verse starts — not the a cappella — of "If You Know You Know": "This thing of ours, oh, this thing of ours / A fraternity of drug dealers ringing off." I'm welcoming you, like, "Hey, guys, this for us." Trying to just galvanize all the energy of my people, that's even why the song starts off first.
Are you worried that fans of yours getting seven songs two and a half years after the last project are going to be hungry for more immediately?
I was worried about that. That was my argument when he gave me the seven-song spiel. I feel like now, after the music being out to many people, many writers, critics, radio DJs, everything … I feel like it'll be more than enough. And, I like the fact that, again, it's the polar opposite of what everyone's doing. No one. We're not talking about a single, we're talking about my project. Man, I am talking about my project. You know?
You haven't done that before, right? Like, really dropped with no single or video or anything?
No.
Are you curious how it's gonna turn out?
No. Actually, I feel we're good. I feel it's gonna be good, and I feel that at the very least, for the brand and the sound of G.O.O.D. Music, this was the best way to start this off. Like, this lets people know that the sound of G.O.O.D. Music and the brand of G.O.O.D. Music sonically — because it's built off a producer, there's nothing touching it. I don't think there's any production touching it.
I want to ask about "Infrared." There's a lot of Drake fans asking "Why is he doing this again?" I told a lot of them that you have to remember that Drake got at him. And what you have to do is you have to respond to the guy whenever you get the chance to. Does it annoy you that people feel like you're pushing a point with him when he's actually playing into it as much as you are?
I don't even look at it that deep. I mean, I don't care what people say. Again, he spoke his truth. He said whatever he felt on "Two Birds, One Stone." He thought that he questioned my authenticity to the streets …
Which is ironic.
Which is … [shakes his head in bemusement] And it's fine. It's fine. But I feel like … If you're gonna question me, now I have to question authenticity, and what I feel it is that you claim. You claim a lot of music superiority. You run the charts, for sure. You got it, bro. [thumbs up] Got it, homeboy. [laughs] But, I have to question the authenticity of it when you get into the idea of skill set and what you do, off of what I've heard publicly. I'm not reaching for this, this is not my — this is out there, this is public knowledge. It's fine. But, you know, I know, we know. But, I have to question that. I have to.
Are you ready for all that warfare all summer? Because, that record …
I'm ready for everything that comes with it. Everything. And we gonna deal in truths. If that's what we gonna do, and that's what we really, really, wanna deal in, let's deal in real truths. Because, I feel like I was questioned. My truth was questioned, and I'm gonna deal in truths all summer long. If everybody wanna deal in that, then I have no problem with that, I think it's great. Think the world needs truth.
Especially this year.
Yeah. What's the big deal?
Can you tell us anything about anything else on the calendar for G.O.O.D. Music?
Man, I mean, listen, bro, this is the month. It's the month of June. Ye is the 1st. Cudi and Ye, Kids See Ghost, on the 8th. Nas is the 15th. Teyana, I believe, is the 22nd or 28th.
You know, people doubted that y'all were gonna pull it off.
Well, I'm glad to prove 'em wrong. I think everybody's gonna pull it off.
Maybe that's what Ye meant having you first. So we'd be like, "Okay, if you're putting out a Pusha record, then we're getting something. We're getting everything."
Yeah. I feel like it's gonna be good, man. I feel like we're doing something that I like to liken to the G.O.O.D. Friday era of G.O.O.D. Music. We've been trying to figure out a way to get that energy back.
People like that energy.
Yeah, people like that energy and it was cheapened, I feel like it was cheapened after we did it.
A bunch of people being like, "All right, Freestyle Thursdays" or whatever?
Whatever. And then just how the music comes out so rapidly. We just couldn't really do that anymore. So, I mean, I feel like this is a bigger way to do it, a bigger platform to do it on.
Do you expect to see a lot of people coming out with mini-albums in the future?
I hope so, because I only like two songs off of each album these days anyway. Maybe they can give me those two that I like and maybe another five or four, which should be sort of, kind of easy when you're doing your trimming down from 18 and 20.
No one is trimming anymore.
Well, yeah, well, you know, if you trim it down, from 18 to 20, you give me six. Maybe we'll be happier music fans.