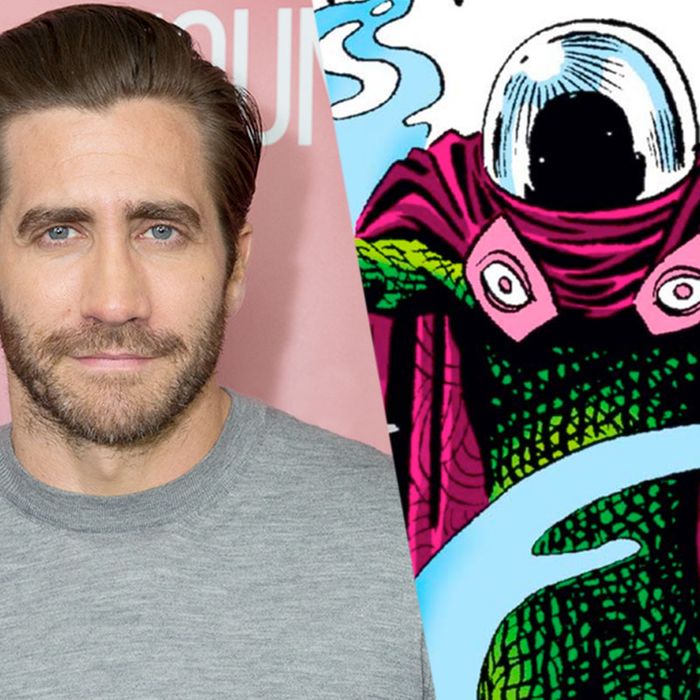 Jakey G and Mysterio
Photo: Getty Images/Marvel Entertainment/Steve Ditko and Art Simek.
Jake Gyllenhaal might be getting fitted for a fish bowl. Y'see, Spider-Man supervillain Mysterio is known for having a glass globe covering his evil head, and it appears that the thespian and noted former Taylor Swift paramour may end up playing that particular baddie in next year's Jon Watts–helmed sequel to Spider-Man: Homecoming. The news comes via The Hollywood Reporter, which said Gyllenhaal is just in talks at this stage, and further details were sparse.
Mysterio has a long history in Marvel Comics lore. Or perhaps we should say the Mysterios, plural. The first iteration of the character was dreamed up by Spider-Man co-creators Stan Lee and Steve Ditko, debuting in 1964's The Amazing Spider-Man No. 13. Then, his alter ego was Quentin Beck, a Hollywood special-effects artist who realized that his talents could be used to commit spectacular crimes. His big plan was to create realistic illusions to disorient any potential foe. Donning the aforementioned semi-spherical dome, he took on the wall-crawler and was briefly lauded by J. Jonah Jameson for doing so (JJJ was also enamored of him for agreeing to an interview, further proving that media types will always debase themselves for access to famous people).
He was, of course, taken down a peg, but returned many a time to torment Spidey and other Marvel heroes — perhaps most famously, he was the antagonist in a Kevin Smith–penned Daredevil story line around the turn of the millennium. There have been a few other people who took up the Mysterio mantle over the years, but Beck has remained the one that creators come back to most often, so it'd be surprising if Marvel Studios and Sony opted to go with any version other than his. This is a rare villain turn for Gyllenhaal, although, if you're a big fan of the late Tom Wolfe, you may consider Leonard Bernstein a bad guy.