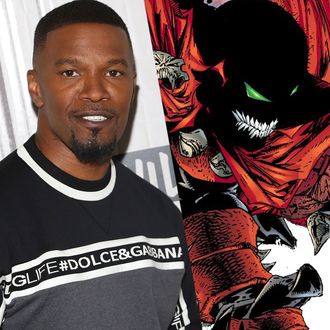 Photo: Getty Images/Image Comics and Todd McFarlane
If you were a superhero-comics reader in the early 1990s, Spawn was as familiar to you as Spider-Man or Batman, and eight times as cool. The grim, lethal superhero was the brainchild of superstar writer-artist Todd McFarlane and he, er, spawned a wide range of properties, from comics to toys to a path-breaking HBO series. One place where Spawn just couldn't catch a break, however, was on the big screen: His eponymous film debut was widely ridiculed upon its release in 1997. However, last year it was announced that the wild-caped evil-slayer is getting another film adaptation, this time via Blumhouse, and now he has some significant star power behind the mask. Deadline has revealed that, in the long-gestating Spawn reboot film (written and directed by McFarlane, himself), Jamie Foxx will play the title character.
The guy's gist is a little odd. His name is Al Newman (in the comics, he was Al Simmons, but they likely changed the name due to a lawsuit involving the guy McFarlane named him after), a onetime black-ops soldier who was killed by scheming friends and who makes a deal with the devil in order to return to Earth. The catch is that he's trapped in a disgusting, scarred body and must use his Hell-granted superpowers in Satanic service. Being a generally decent guy (despite all his years of government-sanctioned murder), Al/Spawn chafes in his new role, but still spends a lot of time brutally destroying baddies. McFarlane has long said (including to Vulture!) that Spawn isn't exactly the star of the movie; rather, it'll follow a cop named Twitch who's trying to figure out what's behind a string of vicious deaths (hint: it rhymes with "Spawn"). Perhaps that'll change, now that a big name is donning the mask? The terror purveyors at Blumhouse are producing, and McFarlane wants the movie to feel more like a horror flick than a superhero one, so we shouldn't get our hopes up about Foxx doing a musical number.