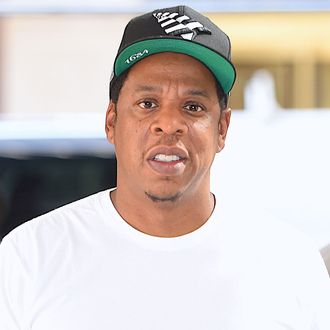 Jay-Z.
Photo: Robert Kamau/GC Images
Turns out, even Jay-Z can't get out of court obligations. On Tuesday, a federal judge in Manhattan ordered Jay-Z to testify next week as part of a Securities and Exchange Commission investigation into Iconix, the company he sold his former clothing brand Rocawear to in 2007. According to the court, the SEC has been subpoenaing Jay for months, but his lawyers have cited the mogul's busy touring schedule as cause for not being able to testify and have stated that his testimony was not relevant enough to the case to disrupt his work. (Preparation for his On the Run Tour with Beyoncé was the most recent excuse.) After requests to have the testimony limited to a day, a judge ordered that Jay must comply. "The testimony has been delayed for five months, and I do not intend to tolerate any further delay," Judge Paul G. Gardephe told the court.
The SEC is investigating whether Iconix, which paid Jay-Z $200 million for Rocawear, violated federal securities laws in the reporting of its financial assets; Iconix reported that Jay-Z was still involved in Rocawear's business dealings after the sale. The SEC has said it wants to question Jay-Z about Rocawear's value, his involvement post-sale, and "multiple emails, meetings and phone calls related to Iconix." Jay-Z, who is also currently suing the Weinstein Company for unpaid royalties, is set to testify before the SEC on May 15 and his testimony is expected to last at least a full day.