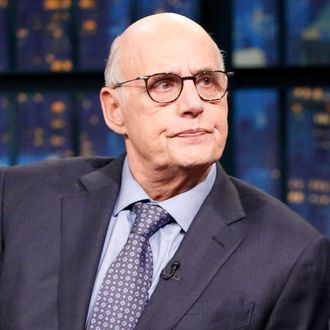 Jeffrey Tambor.
Photo: NBC/NBCU Photo Bank via Getty Images
Amazon may have cut Jeffrey Tambor from his starring role in Transparent, but Netflix will still release a new season of Arrested Development that includes him. A Netflix spokesperson confirmed to Vulture that Tambor, who was fired from Transparent after an investigation into allegations of sexual harassment, will appear in the upcoming fifth season of Arrested Development, in which he plays George Sr., the Bluth patriarch. Netflix hasn't announced a release date for the new season yet, but it has said it will arrive soon. Today, it released a remixed version of the fourth season of the show edited back into chronological order.
Tambor has maintained his innocence in the face of Amazon's investigation and called its investigation "deeply flawed." His Arrested Development co-star David Cross, meanwhile, has said that "there are a number of us [on the show] who stand behind him," and that he is one of them. Another Arrested Development actor, Alia Shawkat, said she was surprised by the allegations against Tambor, but that she does "support the voices of the victims though, whatever they said." While Netflix hasn't discussed the extent of Tambor's involvement in Arrested Development, it could certainly have reshot scenes or edited around him if it wanted to. The show has used a lot of green-screen work before.