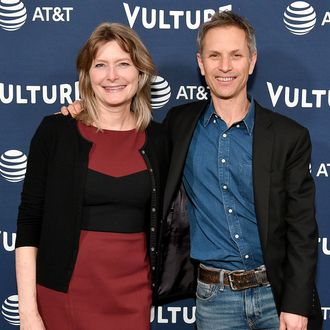 Jennifer Egan and Adam Moss.
Photo: Dia Dipasupil/Getty Images for Vulture Festival
Author Jennifer Egan — whose novel Manhattan Beach was chosen as the winner of Mayor's Office of Media and Entertainment's One Book, One New York — sat down with New York editor-in-chief, Adam Moss, at Vulture Festival on Saturday to kick off the citywide book club, and revealed that she's started to work on a sequel of sorts to her Pulitzer Prize-winning A Visit from the Goon Squad.
"I have a story, a companion to Goon Squad," she said. "The question is, can I take the same structural approach and have nothing about time or music, and these peripheral characters and do something that stands on it's own? If I can't I won't publish it. I have a lot of first-draft material. It's definitely not within the same cast of characters but their children or — the whole idea is to follow curiosity."
But this companion novel isn't the only thing Egan wants to work on. She says she's also exploring ideas set in the 1960s or 19th-century New York. Or maybe even a Western. "I feel like if I like playing with genre," she said, "there has to come a point where someone lands on a horse and we go West." Stay tuned.