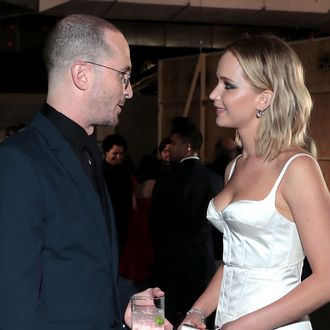 Jennifer Lawrence and Darren Aronofsky.
Photo: Cindy Ord/Getty Images for Brooklyn Academy of Music
It's been over six months since Jennifer Lawrence and Darren Aronofsky called it quits, but it seems like everything is fine, just fine. Totally fine. Why wouldn't it be? What? These are just two, totally fine people being fine together. The exes were photographed Wednesday night at the BAM Gala in New York City, where the director was being honored alongside Jeremy Irons, Nora Ann Wallace, and Jack Nusbaum. Lawrence even introduced Aronofsky when he came out to receive his honor.
They first met when Lawrence starred in Aronofsky's controversial film Mother! and continued to date for almost a year. But it was not meant to be. And while we can never be sure what went down between the couple, we can know that here, tonight, J.Law rocked a white corset in front of her ex for all of us. Everything is fine.