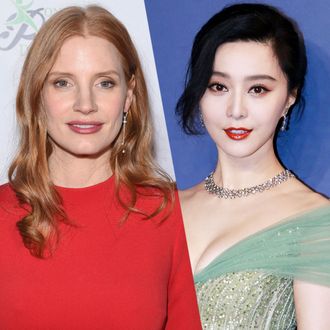 Jessica Chastain, Fan Bingbing.
Photo: Getty Images
When co-workers sit down together and make plans, the result is typically something like karaoke night. But when you're Jessica Chastain working on X-Men: Dark Phoenix and your "co-worker" is Simon Kinberg, the result is a spy thriller stacked with you, three Oscar winners, and one of the biggest box-office stars in China. Deadline reports that Chastain and Kinberg will be at the upcoming Cannes Film Festival to pitch their new movie, 355, to international buyers, and they're bringing the whole principle cast with them to sweeten the deal: Marion Cotillard, Penélope Cruz, Lupita Nyong'o, and Fan Bingbing.
The movie would follow a group of spies from agencies around the world uniting to defeat a "global organization" that's looking to acquire a Very Bad Weapon. Given the disparate backgrounds of each agent, "they have to overcome cultural and political differences to form a bond and work together." After Chastain brought the idea to Kinberg during Dark Phoenix production, he committed. Then she "called all the women" — like sending up some global A-listers Bat Signal — and they said yes. Chastain and Kinberg both cited the Bourne films as a tonal inspiration for 355 (the title references the code name of a female from the American Revolution), and said they hope to kick off a franchise. Theresa Rebeck is writing the script, and yes, we are talking about the producer and writer of the show Smash.