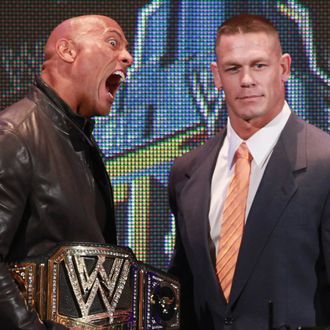 Photo: Taylor Hill/Getty Images
Hollywood is always looking for their next action star. They have to, really. All our best ones are constantly breaking their bones (like Tom Cruise, as he described on Graham Norton) or tearing out their pelvic tendons (like Dwayne Johnson, as he described in the very Instagram post announcing this casting news). Who better to throw his hat in the ring than a man who, at some point in his lengthy wrestling career, probably threw his hat in a ring? In a video posted Monday, Dwayne Johnson announced to his fans that his fellow former WWE star John Cena will star in the upcoming action movie The Janson Directive in his stead.
Set to be produced by Johnson's Seven Bucks Productions and Universal, Janson is an adaptation of a novel by The Bourne Trilogy author Robert Ludlum. It follows the adventures of Paul Janson, a fastidious fashion designer in 1950s London who embarks on a complicated, eventually warped, love affair with a young waitress. Just kidding, that's Phantom Thread. The Janson Directive is, according to The Hollywood Reporter, about former Navy SEAL Paul Janson, who, while working "as a corporate security consultant," suddenly "becomes a target himself when a rescue operation goes horribly wrong." Ah, that sounds much more like it.