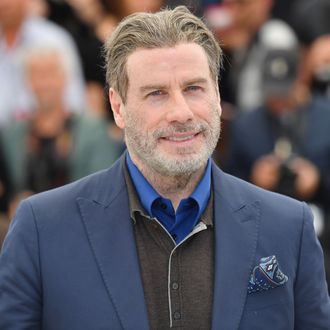 Travolta.
Photo: Stephane Cardinale - Corbis/Corbis via Getty Images
During a talk at Cannes on Wednesday, John Travolta was asked questions about the breadth of his career, and was even game enough to field questions about Battlefield Earth ("Picasso had sketches he didn't sell and weren't as popular as other things," was his response, according to Amy Kaufman of the Los Angeles Times). He did not have much to say, however, when asked about the #MeToo movement. Not because he disagrees with what's happening, but just because he's not really thinking about it. According to Kaufman, who was tweeting from the event, Travolta said:
As a post-race, post-gender "citizen of the world" Travolta doesn't have the time or bandwidth to consider the biggest social-reform movement currently sweeping through his industry. Maybe Picasso wouldn't have had much to say on the matter, either.