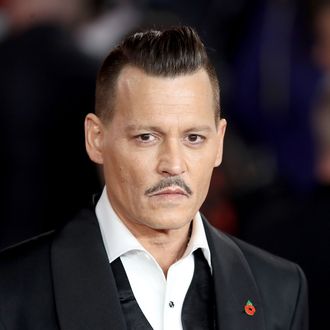 Johnny Depp in London, November 2017.
Photo: Mike Marsland/Mike Marsland/WireImage
Two bodyguards are suing their former employer, Johnny Depp, over unpaid wages and for exposing them to unsafe working conditions, reports People. The two former employees, Eugene Arreola and Miguel Sanchez, filed a complaint in Los Angeles court on Tuesday alleging that the actor did not comply with state employer requirements.
Though the two men began protecting Depp through an independent security company in 2013, they transferred over to part of his in-house security team in 2016. Around this time they allege his behavior began to change. Checks from Depp's payroll would be missing "overtime and rest pay" and the duo didn't receive their mandatory meal and rest breaks. They would also be required to do jobs not normally required of security detail, like driving the actor and his family, or watching over Depp's "minor child" as the "primary caretaker." As People points out, Depp's youngest child is John Christopher Depp III, who is 16 years old.
The suit also alleges that Depp made them complicit in his illegal activity. They say they "were forced to protect [Depp] from himself and his vices while in public, becoming caretakers for him." As an example they mention one night at a club when they had to alert their boss to "illegal substances visible on his face and person." They said they had to "prevent onlookers" from noticing "Depp's condition."
The legal complaint comes as Depp and his former business managers are facing off with multi-million-dollar dueling lawsuits.