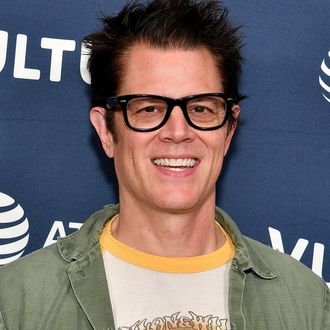 Johnny Knoxville, with both eyes in.
Photo: Dia Dipasupil/Getty Images for Vulture Festival
This Sunday, New York magazine's David Edelstein sat down with Johnny Knoxville at the 2018 Vulture Festival to talk about his upcoming film Action Point, about a theme park with a Jackass-style attitude towards safety regulations. As in, there are none. Knoxville has the scars to prove it. "I got hurt more on this film than any film I've ever done," he said, "I got four concussions, broke my wrist, busted my knee, got stitches, whiplash, uh, lost two and half teeth." But the scariest injury Knoxville sustained didn't occur until he was already off camera. "Once I got home from the emergency room after one bad concussion … I had blood in my nose so I blew my nose," he told the crowd, "and when I did, my left eye popped out of the socket." The actor had, um, literally destroyed one of the bones around his eye. "They say I didn't break it, it disappeared on impact, so when I was blowing my nose I was blowing air around my eyeball pushing it out." The injury required the film to shoot him only from the right side of his face for about six days.
The actor then announced he is still writing new ideas for a possible future Jackass project, though he acknowledged the need for some fresh, unbruised meat. "We'd probably bring in some younger guys too to kind of pass the torch," Knoxville said. Not because he's done with being injured, but "because at some point, it'll be sad."