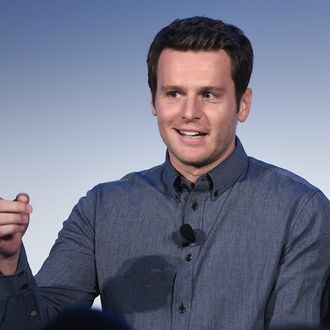 Jonathan Groff.
Photo: Ilya S. Savenok/Getty Images for Vulture Festival
Based on a real story and book by John E. Douglas, Netflix's Mindhunter follows two FBI agents and a psychologist as they begin to study serial killers, in order to figure out how they can quickly catch and hopefully prevent future murderers. As they study these killers, we start to see the team crumble under their work. One character Holden Ford, played by Jonathan Groff, has fans especially concerned. One very popular fan theory is that Ford is turning into a sociopath himself and might even be a serial killer. At Vulture Festival on Sunday, Groff told the audience that he was completely surprised by the idea.
"Everyone has said to me after they watch the show, that they thought the character was a sociopath," laughed Groff. "And I had no idea! No idea … So many of my friends were texted me, saying 'Okay, so when are you gonna start killing people?' …I think the thing that they are aligning with … that I think is very similar, that we start to see more and more in our characters is this characteristic of narcissism and becoming self obsessed."
You can watch Groff's explanation below.
The cast is shooting season two now, with hopes that the next season will be ready in 2019. Things could change for Holden, but as far as Jonathan knows, his character won't be joining the serial killers in their sadistic pastimes anytime soon.