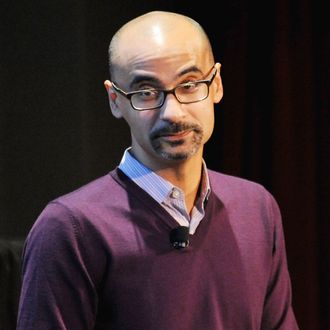 Junot Díaz.
Photo: Andrew Toth/Getty Images for The New Yorker
Before she detailed her allegations of sexual misconduct against Junot Díaz on social media this morning, author Zinzi Clemmons confronted him hours beforehand during a literary festival in Sydney, Australia.
According to someone who witnessed it, the public exchange took place during the question-and-answer session following a panel titled "Why We Read," where Díaz shared the stage with four other panelists. Clemmons, who published her first novel, What We Lose, last July, took hold of a roving microphone and said she'd tried to ask her question during a previous Díaz panel. "He replied jokingly, 'Oh shit,'" the source recalls. "And she said something like, 'You're dead right, 'Oh shit.'"
Speaking with "much emotion and what seemed like anger," she "didn't introduce herself and went straight into the conversation," telling Díaz he had written his essay for The New Yorker, about the legacy of being raped as a child, as "cover" to protect against allegations that were going to come out against him. As reported earlier in Buzzfeed News, Clemmons said she had invited Díaz to a Columbia University workshop six years earlier; he had "harmed" her, she said, and she wanted to know "why you treated me that way." It was unclear to the hundreds of attendees whether Díaz recognized her, or pretended not to. Clemmons dropped the microphone and headed for the exit. Díaz said he wanted her to stay and hear his full answer, but she called it "bullshit" and left.
"Junot Diaz either didn't grasp or pretended not to grasp questions from @zinziclemmons about the connection between his New Yorker piece and his behavior with her," panel attendee Alexander Luft later tweeted. "Unfortunately, the audience (mostly white, older Australians) seemed to instantly rally around Diaz. They wanted @zinziclemmons to stop questioning him, and they applauded Junot's answer. Deep problem among both writers and readers."
But the attendee who spoke to Vulture attributed the response to general confusion and the sudden shift in tone. "People have criticized the audience as siding with Junot, but at the time of the panel, none of this was knowledge that people had in the room," the attendee said, referring to the allegations against Díaz. "From the point of view of the panel, she was just an angry audience member." After Clemmons left, the panel took a few more questions, and then Díaz signed copies of his books. A couple of hours later, Clemmons tweeted her allegations, and everything changed.
Clemmons said on Twitter that Díaz had forcibly kissed her and sent her unwanted emails on many occasions. Two other women, authors Carmen Maria Machado and Monica Byrne, detailed their respective experiences with Díaz's verbal abuse as well. "I take responsibility for my past. That is the reason I made the decision to tell the truth of my rape and its damaging aftermath," Díaz said in a statement to the New York Times today. "This conversation is important and must continue. I am listening to and learning from women's stories in this essential and overdue cultural movement. We must continue to teach all men about consent and boundaries."
This post has been updated throughout.