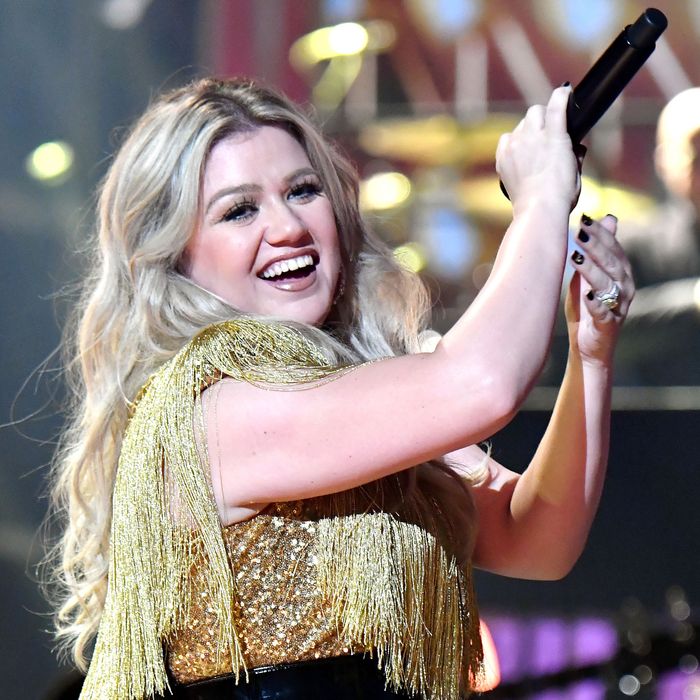 An Idol indeed.
Photo: Jeff Kravitz/FilmMagic
Kelly Clarkson has been doing this whole singing live on national television thing for nearly two decades, making few more qualified than her to host a televised awards show about music. At long last, the real moment we've waited what has felt like a lifetime for has arrived: Clarkson hosted the 2018 Billboard Music Awards on Sunday night and once again showed her range. She was at times heartbreaking, particularly in her candid opening speech on the Santa Fe shooting, and other times outstandingly funny. And at all times, she was all of her peers' biggest fan. Here are Kelly Clarkson's best moments from the 2018 BBMAs.
Her Santa Fe Cold Open
Clarkson was asked to lead a moment of silence for the victims of the Santa Fe shooting, but silence on gun violence is what got us here in the first place, so Kelly refused. She gave an impassioned, tearful speech rather than remain quiet: "I'm so sick of moments of silence. It's not working. Obviously. So why don't we do a moment of action. Why don't we do a moment of change."
Covering everyone else's songs
Now we all know Kelly Clarkson can't resist a cover. So in lieu of an opening monologue, Clarkson transformed herself into a living jukebox to perform all the past year's hits with most of their original artists witnessing her magic in the audience. "I'm sweating, ya'll!" she told the crowd later. But we'd guess probably not as much as her fellow artists are sweating right now.
Her Very Texas Performance
"Oh, ya'll ain't know? Texas women do it bigger." Well we do now, Kelly!
Crashing Salt-N-Pepa's Performance
She's just living her best life, ya'll.
Fangirling Over Everyone
It's important to remember that Kelly Clarkson was plucked from obscurity to become the legend that she is today, which means, at her core, she's a fan first like the rest of us. So while she may have been the master of ceremonies, she was also every artist's personal cheerleader and proud mom. You've never seen stanning so pure.
Exhibit A: When she told John Legend he looked sexy after his performance then gushed about his newborn son and flashed the photos of bb Miles onscreen, which is her way of saying, yes, John Legend you are a DILF.
Exhibit B: When she crashed Normani's red-carpet interview to praise her dress rehearsal, like a true Harmonizer.
Exhibit C: The way she said "haaaaay" to Christina Aguilera and Demi Lovato in the crowd like they're her brunch buddies.
When She Wore Earmuffs to Prepare for BTS
Her Simon Cowell Reunion
Only Kelly could get a pleasant reaction out of Simon Scowell:
When She Asked NBC to Renew Timeless
Kelly Clarkson, an intellectual and Matt Lanter stan:
Reclaiming Her Status as Our National Treasure
I mean, need we say more?