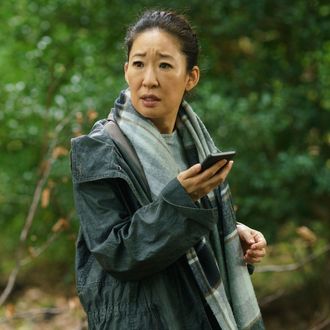 Sandra Oh as Eve Polastri.
Photo: Nick Briggs/BBC America
Sandra Oh's new series Killing Eve is doing something that's rarely done on television anymore: adding viewers. Per Nielsen's three-day DVR ratings, the BBC America drama drew just shy of 900,000 viewers with its most recent episode Sunday, a 33 percent jump from its April 8 premiere (669,000 viewers). More impressively, Eve has managed to draw a bigger audience each of the four weeks it's been on the air, while also doing noticeably better than the most recent season of BBCA's last signature hit, Orphan Black. Eve's overall audience is still modest compared to cable's biggest hits, but the show is managing to outdraw a number of high-profile basic cable series, including FX's Legion and Lifetime's UnREAL. BBCA execs have to be particularly pleased — and relieved — by the Nielsen performance for Eve: They ordered a second season of the show before it launched.