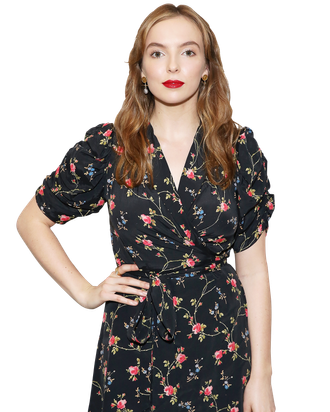 Jodie Comer.
Photo: Getty Images
Sandra Oh is the actress who drew viewers into the twisted world of Killing Eve, but she's got a valuable co-star in Jodie Comer, who plays the sociopathic assassin trying to hunt down Eve Polastri. Though she's only 25, Comer has already built a steady career on British TV in shows like My Mad Fat Diary, Thirteen, and Starz's The White Princess, and on Killing Eve, her charisma kicks into high gear. Villanelle (formerly Oksana) is an assassin as charming as she is amoral, who, over the course of the first season, has done everything from stabbing a man with a hairpin to demanding that Eve have her over for dinner. Ahead of the Killing Eve season finale this Sunday, Vulture spoke with Comer over the phone to discuss how she built Villanelle with series creator Phoebe Waller-Bridge, her character's newly revealed backstory, and why she loves her pantsuits.
In the seventh episode, Eve gets into Villanelle's backstory, learning about her relationship with the teacher and everything. It's interesting because you sympathize with her, but she's done all these terrible things.
I don't know if I'd say it's vulnerability, but it has to be something with the backstory. I want them to be scared of her, but then also be rooting for her a little bit. She has a quality about her that is very hard not to love.
She has this childish enthusiasm that makes her fun to watch. Almost endearing in a frightening way.
The thing with Villanelle is she's such a free spirit. She's not self-conscious at all. That was something that I had to get past because I can be quite a self-conscious person. In order to play her, I really have to let my guard down. I do think she's quite infectious — even when she's about to kill someone. There was a lot of days on set where I was just like, "Oh, my God, what are you doing!" In a good way!
Did you have a favorite kill to film?
I loved the hairpin one because it was the first one that I did. But I also loved the hot medical kill [where Villanelle kills a man in a BDSM hospital clinic]. It was just so outrageous! I had that whole disguise and stuff. I loved the kills where she wasn't really being herself, when she was taking on a different persona.
One of my favorite shots is when Villanelle is in Berlin club, right before she murders Eve's colleague Bill. What was it like to shoot that and to get that moment?
We actually shot in a club in London. It ended up being like choreography — people have to be at a certain place at a certain time when the camera comes through. It was brilliant, but I didn't realize how sinister that actually was. I was like, "Whoa, Villanelle! Did you have to kill Bill? Did you have to go and do that?" It got me a little bit. With that shot, with the smile, it was just so brilliant!
There were a couple of other moments, too, when she has this delighted look as she's murdering people. How did you work out that specific expression?
I always see her as an animal with its prize. If you see a cat, they will play with a mouse before they go in for the attack. But I try not to think about what my face is doing too much. I really just focus on the emotions. It was so important for people to fear her, even if she does have a quick humor and personality. You don't want people to not believe that she is dangerous. She could be chattin' and having a normal conversation and then all of a sudden … she has to have that element of surprise.
We've learned that Villanelle specifically has a thing for older women who have great hair. When you were initially talking to Phoebe about the character, what were you thinking about her sexuality?
She definitely prefers women, but I think with the freedom that she has … I don't think she has any limitations at all. Eve also really reminded Villanelle of Anna, and I think that sucker punches her and brings up the emotions from her. Villanelle has a fascination with Eve. Not only is she sexually attracted to her, but there's a curiosity there. Eve has this normal life and a job and a husband and that happy family life at home and that's what Villanelle craves deep down. There's a part of her, deep down, that craves that human contact, like the normality of it.
One of the season's biggest moments is when Villanelle forces Eve to have dinner with her. What was it like to shoot that scene with Sandra Oh?
What I love about that scene so much is the two of them are constantly strippin' the power from each other. You think one is in control, and then it totally shifts to the other. When Eve calls bullshit on Villanelle, it is another thing that triggers her interest — the fact that this woman is not what she thought. She thinks, This woman sees through me and and she's a lot cleverer that I thought she was.
It's much stranger and scarier the more normal Villanelle is. She just wants to have dinner with this woman. She runs in and then she's like, "I want to have dinner with you!" After that, she's pretty calm and laid-back and happy to help lay the table. If we played that scene of Villanelle being quite sinister, it wouldn't have worked.
She is also very childish and loves dressing up in costumes. Do you have any favorite outfits of her?
I love the suits in Berlin. The camo patch wear. I really, really loved that thing. That little pink dress was amazing. It was very flamboyant, but that suit was definitely my favorite. I think she got the shoes and got to Berlin and then was like, "I need an outfit." I don't feel like she carries a suitcase of clothes with her. She gets there and finds something that is how she's feeling.
Killing Eve was already renewed for a second season. What parts of Villanelle do you want to explore more deeply?
She doesn't show emotion. If she needs to get out of a situation, then she will. But the past is something that she's burying, so I'm quite interested as to how … I don't know if she has to face that or if that changes her in any way. I don't know, I feel like that is something she'd never let people see that side of her.
But also, I wanna do a lot more disguises. I remember speaking to the costume designer, Phoebe de Gaye, and she's amazing. I was like, "I want that hair, I want this hair, I want it bald. I want a buzz cut." We didn't get through all of them, so I really hope we get to squeeze more disguises in.
I read that you got into acting after you wanted to do "Cell Block Tango" in a school talent show but got cut from it, so you entered a drama festival instead. I just have to know, which character in "Cell Block Tango" were you?
Oh, my God! I can't even remember! I don't know whether we gave each other the characters, but I feel like we all just have a certain fraction. I remember that we had to change the words because we were obviously 13, maybe even 12? And it's a little bit X-rated, if I remember correctly. I think instead of "Lipshitz" we said "Liptricks." God, it was awful! In hindsight, it was probably a blessing! It would be a video they would play on the chat shows, so I'm quite glad that I don't have that in the bag.
This interview has been edited and condensed.