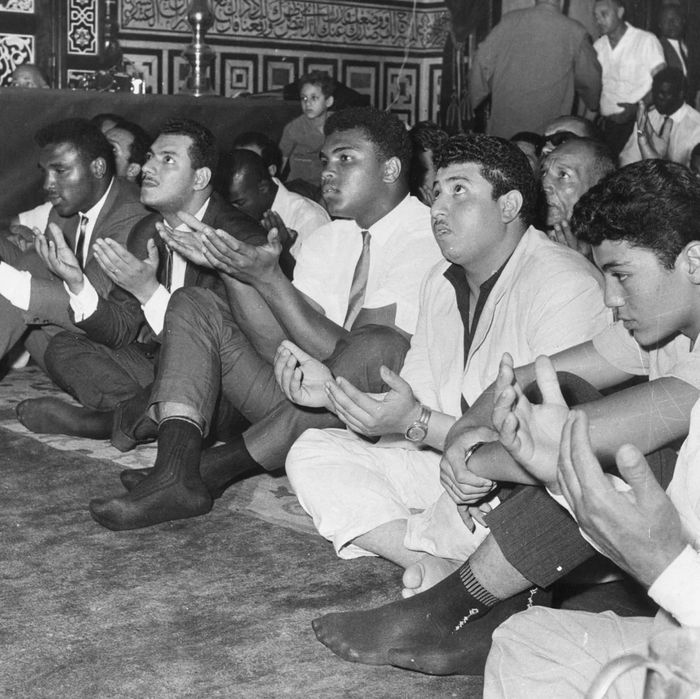 Each month, several films and TV shows leave Netflix's library. We provide a list of departing titles and recommend a few standouts so you can watch them before they're gone forever (or are just available on a different site). For more coverage of the best movies and TV shows available on Netflix, including our top picks from last month and updates on what's new on Netflix this month, check out Vulture's What to Stream Now hub.
Leaving June 9
For anyone who read the NFL's new national anthem policy: The Trials of Muhammad Ali
More than 50 years ago, the greatest fighter of all time refused to take up arms in the Vietnam War. This week, the biggest sports league in the country required its players to stand for the national anthem or leave the field when it's played. The stirrings of great athlete protest can be traced through Kartemquin's powerful, punchy documentary charting the period of Ali's career when he became most at odds with the American Establishment, both through his conscientious objector status and the public conversion to Islam that preceded it. Leaving June 9.
Leaving June 1
For Daniel Day-Lewis stans: My Left Foot
You likely know this movie as the one Daniel Day-Lewis spends in a wheelchair to play Irish writer and painter Christy Brown, who had cerebral palsy. But if you were a fan of Phantom Thread and want to know where the actor developed his reputation for "going Method" to the point of irritation, this is an essential watch, because his performance is so good despite the fact that he barely ever moves his body. Bracing, unsentimental, and raw, the 1990 biopic was a showcase not just for Day-Lewis but also for the transformative power of a really good performance. Leaving 1.
Leaving June 1
For the Detroit faithful: 8 Mile
"Mom's Spaghetti" has been memed to oblivion, and Eminem has risen from trailer-park squalor to Donkey Kong–crushing royalty. But you gotta remember your roots, and 8 Mile takes us back to a moment when the world turned its eyes to Detroit and found characters instead of ruins. Director Curtis Hanson revived some of the oldest story arcs in the playbook for the rap era, and brought the streets of the Motor City to vivid, bruising cinematic life. Leaving June 1.
Noteworthy releases in bold.
Leaving Netflix: TV Shows
Leaving June 2
• Shark Men: Season 3
Leaving June 16
• Anthony Bourdain: Parts Unknown: Seasons 1-8
Leaving June 18
• Cedar Cove: Seasons 1-3
Leaving June 21
• Baby Daddy: Seasons 1-6
Leaving Netflix: Movies
Leaving June 1
• 50 First Dates
• 8 Mile
• The Angry Birds Movie
• The Brothers Grimm
• Gridiron Gang
• J. Edgar
• Men in Black
• My Left Foot
• Neerja
• Out of the Dark
• Princess Kaiulani
• The Spy Next Door
• Training Day
• Untraceable
• Vice
• What Our Fathers Did: A Nazi Legacy
• While You Were Sleeping
• The Young Victoria
Leaving June 8
• Grace of Monaco
Leaving June 9
• The Trials of Muhammad Ali
Leaving June 10
• Bonnie & Clyde (2013)
Leaving June 15
• Drillbit Taylor
• The Giver
• The Great Gatsby (1974)
• Naz & Maalik
• Underdogs
Leaving June 16
• Backstreet Boys: Show 'Em What You're Made Of
• Curious George
• Super
Leaving June 20
• Cake
Leaving June 22
• Sin City: A Dame to Kill For
Leaving June 23
• Curious George 3: Back to the Jungle
Leaving June 25
• Captain America: Civil War
Leaving June 26
• Alpha and Omega
Leaving June 29
• Jackass Presents: Bad Grandpa .5
Leaving June 30
• On Golden Pond
For more coverage of the best movies and TV shows available on HBO, Amazon Prime, Showtime and Hulu, check out Vulture's What to Stream Now hub, which is updated throughout the month.