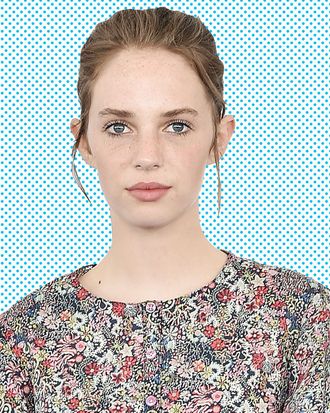 To prepare for her role in Little Women, Maya Hawke learned about the Jo Marches that have preceded her. The 19-year-old acknowledges that some actors avoid viewing other performers' interpretations of famous roles, but she's just "too curious" — so she watched the likes of Katharine Hepburn, June Allyson, and Winona Ryder take on Louisa May Alcott's convention-defying budding author, who she now plays in a PBS limited series.
Curiosity seems to course through Hawke. She describes loving the classic novel about the evolution of four sisters as much for its empowering narrative as for its embrace of the transcendentalist movement. Before deciding to pursue acting she considered other professions that could utilize her love of poetry and language — perhaps illustrating children's books or teaching English.
Still, it seems fated that Hawke would ended up on screen, her parents being Ethan Hawke and Uma Thurman. Earlier this week, Hawke spoke to Vulture by phone about about Alcott, the encouragement she got from Sofia Coppola, and her upcoming role on Stranger Things alongside Ryder, a fellow Jo.
I'm really excited to talk about Little Women with you — the book means so much to me.
It means a lot to me too. So I get it.
Can you talk a little bit about that?
I was handed a book list when I was in eighth grade that had a long list of books, mostly written [by] and about men. And mostly adult men. You had to pick one book and write a book report about it. The only book on the list that had in it any kind of feeling of what I was experiencing in my life was the title Little Women. It was a time in my life where I was struggling tremendously academically. I was diagnosed with dyslexia in third grade and had gone to a special school for it and then left the school. I'd learned to read and write, but it was still a real struggle for me, as it is to this day. But it ended up being the first book I ever read cover to cover. I mostly got through school listening to audiobooks. I think the reason that I read Little Women is because Jo inspired me so much. She was so driven and determined. She had a lot of obstacles in her life that were keeping her from what she loved, keeping her from writing, keeping her from the books she loved, but her obstacles were more societal. She was far more capable than I was at basically everything. It really inspired me and I changed the academic course of my life pretty dramatically.
The second reason that Little Women is important to me is because Little Women is infused with a certain kind of spirituality and relationship to nature and to God that I think is very powerful and positive. The Alcotts were surrounded by the transcendentalist movement. It's a slightly more conservative take on it, because Louisa was really interested in getting her book published, but she has the feeling of the transcendentalist movement in the text of Little Women. [It] was the idea that God is not a punishing figure but all that is good and light within the universe that is running through every living being. That changed the way that I was thinking about religion and about Christianity, and it kind of opened my mind at the time.
Did you pick up on the transcendentalism after you first read the text or did you come to it later?
I picked up on the fact that it was a far less punishing look at religion than I had been accustomed to. I didn't know why it was a far less punishing look. It was only later when I was in high school and I was reading Emerson and Thoreau and "The Divinity School Address" that I started to understand what the transcendentalist movement was and why it was important.
Where did you start to approach the character, from the perspective of somebody for whom the book meant a lot and as an actor?
You're juggling a lot of things. You're juggling the past performances of her by Katharine Hepburn, June Allyson, and Winona Ryder. You're juggling your imagination of the book and just the acting challenges of different behavioral patterns from the period. Keeping all those different rules and restrictions of the time period and of the character in your body was a real challenge.
How did you come at it from a modern perspective while also staying true to the period?
You don't have to step that far out of the period to have a modern perspective on her. She was way out of her time. If there was something that hasn't been done in the other versions that I wanted to bring out was Jo's anger and her clumsiness. One of my favorite things reading the book when I was a little girl is how clumsy Jo is. She's always dropping things and breaking things and tripping. That's something I really relate to. If you're a young, tall girl, your body grows faster than you're you're ready to handle how to move it. You are always bumping into things and dropping things and you're not that graceful. I really wanted her not to be that graceful because so often women, especially in movies, are always so beautiful and so graceful. I'm not graceful. It always made me feel really insecure about how awkward and silly I was. I really wanted to put a woman on the screen who was awkward and silly, and sometimes beautiful and sometimes not. Because no matter how good a picture you can take, you can still take a bad one.
I'm going to spoil the book, but one of the things that has long been up for debate is the fact that Jo ends up with Professor Bhaer. Some fans are enraged she doesn't end up with Laurie and some are enraged she doesn't end up alone. Where do you stand on that ending?
When I read the book for the first time I was enraged she didn't end up with Laurie. I was so upset. When I read it again when I was in 11th grade, I was enraged she didn't end up alone. I knew Louisa May Alcott stayed single her whole life and was sort of forced by her editors to marry Jo off at the end of the book. I was enraged that she ended up with Professor Bhaer and not on her own, galavanting about Paris.
The thing about playing a character is you really have to accept them for their journey. Even if I wanted to, I wasn't telling Louisa May Alcott's story—which, by the way, I would love to do. But I was telling Jo's story, and Jo marries Professor Bhaer. The challenge of playing the role is figuring out a good reason why. By the end of having played it, I really felt that I understood the ending. The thing is, Jo was not allowed to go to college. She wasn't allowed to further her education in the ways that she wanted to and become the academic she truly was. The substitute that she found to not being able to go to college was finding a way to love a man who had a lot to teach her. There's a wonderful moment in the book and the show where Professor Bhaer insults Jo's writing. He doesn't know that it's her and he insults how commercial the stories are. He ends up apologizing and saying something wonderful about how making art for the people is a great thing to do. But he also pushes her to find her more academic side and to work harder. In the end, she marries her teacher, and that's a smart choice for her to make in the time period.
You mentioned Winona Ryder was the last person to famously play Jo. It's a very small world: Winona is a friend of your dad's, and now you're going to be working with her on Stranger Things. Did you ever talk to her about Jo?
I did get to speak to her about it at the cast dinner beginning Stranger Things. We just talked about what a wonderful honor it is to get to embody a person like that.
You dropped out of Juilliard to take this role. Was that a hard decision?
First of all, I would recommend any young person who wants to be an actor to go and get some training. I loved that school. I couldn't recommend it more highly. I learned more in one year at that school than almost the rest of my life put together. So it was an incredibly difficult decision, made mostly by my unquenchable desire to be a grown-up and to be independent. If I could have gone to play Jo and gone back to school I would have, but I couldn't. I had a week to make a decision and I made one.
Sofia Coppola really wanted you do be in her Little Mermaid adaptation, and that didn't end up working out. How much were you involved in that project?
I never got the past the audition phase of that project. But I owe my decision to be an actor professionally in part to Sofia Coppola. She really believed in me. It was my sophomore year. I hadn't really had anyone outside school and outside of my home believe in me like that especially in a professional context. It was the first part I ever auditioned for professionally, and her belief in me and her interest in me really gave me a lot of energy and belief in myself. The Virgin Suicides, Somewhere, and Lost in Translation were really important to me, and to have her see something in me just gave me the energy I needed to make a lot of choices I ended up making in the next few years. So I am forever indebted.
Little Women comes with a set of expectations because those characters have been so beloved for generations. But Stranger Things comes with a different set of expectations because it's so overwhelmingly popular right now. How does that compare?
Well, first of all let me say that as a human being I have a very difficult time keeping my head inside the zeitgeist. I'm not super aware of what's the coolest thing and what everybody's doing or listening to or watching at any given time. I'm still trying to catch up on, like, Harry Potter. But I loved the show. I wasn't aware of how insanely popular it was. It got announced and I got, like, 40,000 Instagram followers in like 30 seconds. I didn't expect that to happen. I don't think I'll fully understand what kind of impact it will have on my life until after it comes out.
Your character is described as an "alternative" girl. What does that mean to you?
Everyone is confused about how the description got out there. The producer the other day came up to me and was like, "Hey, like, did you describe your character as 'alternative' in an interview?" And I was like, "No, you described it in a press release." And they were like, "Oh, uh…" So no one really knows how that description got out there. And in a lot of ways I think it means nothing. I would say to read as little into that as possible.
You're entering the business with famous parents. What are the pressures of that?
I'm very lucky for two reasons. One, the inherent advantages that come from having a parent work in the industry — you know more people. It is about who you know and it's very helpful. The other reason that I'm really lucky is I have had the experience of watching very closely two tremendously successful careers within the industry and how different moments have been negotiated and moved through and how different decisions have been made. So I feel [more] prepared than a lot of people going into this business to handle making those decisions just because I have a lot more information about the ways that they are made.
It's difficult to always have to be contextualized within the careers of your parents, and it's difficult not to feel like you can stand alone, but hopefully I'll earn the ability to stand alone over time. I'll take the good with the bad. It's all okay. I'm very lucky.
What was it like seeing your mom share her #MeToo regarding Harvey Weinstein? Does that affect or influence the way you come at the industry at all?
The wonderful thing about my mother is that she is perfectly capable of speaking for herself. I think she spoke eloquently and with a lot of love about her experience, and very thoroughly, so I don't really feel the need to add anything.
I will say, I worked with two female directors. Now I'm working with the Duffers. But within the acting world I've only had positive experiences, and I think that has a lot to do with the work that the women of my mother's generation have put in, and all the generations prior have put in, to even the playing field and create a space where young women feel safe to raise their voices and are free to work.