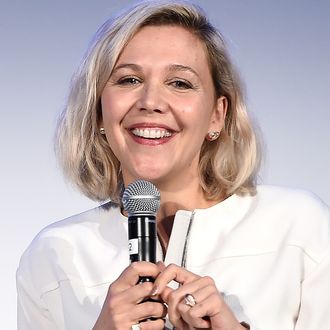 Maggie Gyllenhaal.
Photo: Ilya S. Savenok/Getty Images for Vulture Festival
Maggie Gyllenhaal sat down at the 2018 Vulture Festival to talk about five of her favorite projects, all of which involve a lot of crying. From 2002's Secretary to the upcoming second season of HBO's The Deuce, the actress has spent plenty of time inhabiting the lives of women who are having a rough time. But things could be about to lighten up. When asked if she would be interested in doing a comedy as a change of pace, the actor announced that she and her husband, The Looming Tower star Peter Sarsgaard, are already working on one. "We are developing a comedy together," she said. "It's about Mary Matalin and James Carville. You know, Mary Matalin ran George Bush's presidential campaign and James Carville ran Clinton's campaign, and as they were campaigning against each other they had a love affair; fell in love."
The actor didn't offer further details, but the project could be based on Carville and Matalin's 2014 book Love & War: Twenty Years, Three Presidents, Two Daughters and One Louisiana Home, which details the couple's party-line-crossing marriage. Gyllenhaal didn't clarify whether she and her hubby would star in the film, but it's hard not to get excited about the possibility of Sarsgaard with a bald cap and a Louisana drawl.