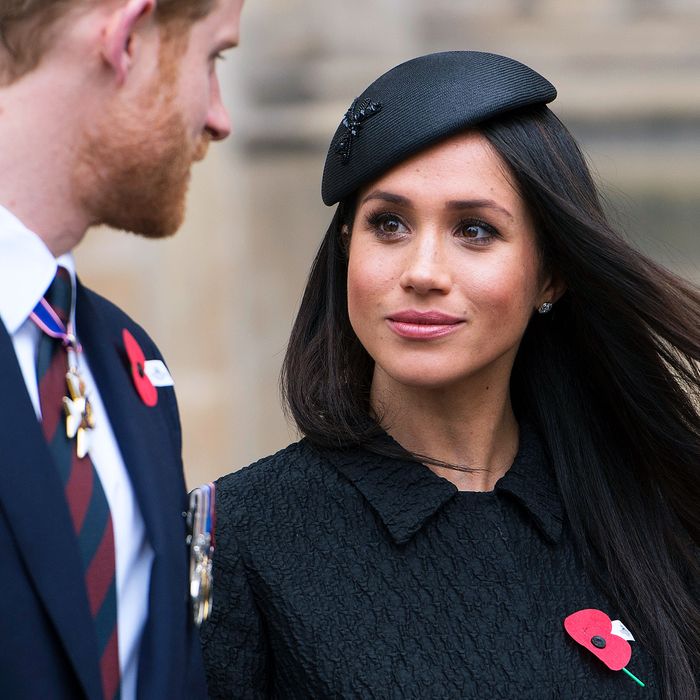 Meghan Markle and Prince Harry.
Photo: WPA Pool/Getty Images
Hear ye, hear ye! You might've heard that an American actress is infiltrating Britain's royal family, thanks to Meghan Markle's impending marriage to Prince Harry this May. The royals are thrilled, the common folk are thrilled, but most importantly, the television networks are thrilled — not even a week went by following their engagement that the inevitable Here's Our Fun and Unique Meghan Markle TV Special! headlines emerged. Since so many Markle specials are set to premiere soon, your friends at Vulture thought it was wise to break them all down for your binge-watching convenience. Which ones are actually worth your time? Well, that's up to you.
Inside the Royal Wedding: Harry and Meghan
Where and when: NBC, May 16
The gist of it: As you can surmise from its title, Inside the Royal Wedding will stoke the excitement for Markle and Prince Harry's nuptials, which will take place on May 19 at Windsor Castle. Today's Savannah Guthrie and Hoda Kotb will also be joined by "prominent figures from the worlds of fashion, sports, and show business" to weigh in on additional matters of the royal heart. But again: This is all about the wedding! Expect intense speculation about what dress she'll be wearing!
Special guests: The special hasn't revealed its surprise guests yet, only promising "close friends of the couple" will be interviewed. Kotb will be reporting live from Windsor Castle, making prominent guests more likely to appear.
Meghan Markle: An American Princess
Where and when: Fox, May 11
The gist of it: An American Princess is taking a slightly more loaded angle of "can this multiracial American divorcée really change the monarchy?" It will use behind-the-scenes and archival footage to tell the complete story of how Markle came to be Prince Harry's bride-to-be — from her Hollywood career and beyond. It's less about Markle's actual backstory, though, and more about her time with Prince Harry and what their marriage will mean for the future of the British royals.
Special guests: The headliner will be Samantha Markle, Meghan's half-sister. Other confirmed guests within the realm of the royal family include Princess Diana's former butler, Paul Burrell, and Dickie Arbiter, Queen Elizabeth II's former press secretary.
Meghan Markle: American Princess
Where and when: Available now on CBS On Demand
The gist of it: If you only want to learn about Markle's past and her ascension to global stardom, this is the special for you. Hosted by Gayle King, American Princess tracks Markle's entire life leading up to her royal engagement, which is boosted by "intimate, revealing interviews with the people who know her best." So, we'll get to learn all about elementary-school and high-school Markle.
Special guests: A mélange of people from Markle's past, including her sorority sisters from Northwestern and her former teachers. Alexi Lubomirski, who shot Markle and Prince Harry's engagement photos and will be their official wedding photographer, is also interviewed.
Harry & Meghan
Where and when: Lifetime, May 13
The gist of it: Because you can't possibly expect Lifetime to not take advantage of a soapy, fictionalized movie about their courtship, Harry & Meghan will have all of the fundamental tenets worthy of the Lifetime name. Tears! Betrayal! Lots of smooching under the stars! Some more betrayal! Get to know the actors before you watch.
Special guests: Everyone you can imagine — in fictional form, of course.
The Story of the Royals
Where and when: ABC, late August
The gist of it: This one is for the history buffs out there. ABC's four-hour primetime special will lean heavily toward the evolution of the modern-day British monarchy by exploring "the key figures who represent four generations of the crown" — Queen Elizabeth II, Prince Charles, Prince William, and Prince George. Of course, there will also be a bunch of time dedicated to Markle, but more in the lens of the history of Americans marrying into the British royal family.
Special guests: Besides the vague promise of "palace insiders" and "royal experts," no special guests have been announced.
Million Dollar American Princess: Meghan Markle
Where and when: Smithsonian, May 13
The gist of it: Besides the requisite coverage of Markle's backstory and rise as Prince Harry's future wife, Million Dollar American Princess takes on the intriguing angle of comparing Markle's courtship "to other actresses and heiresses who crossed the Atlantic to marry into European nobility," such as Grace Kelly and Rita Hayworth, and what happens after the wedding bells stop ringing.
Special guests: None.