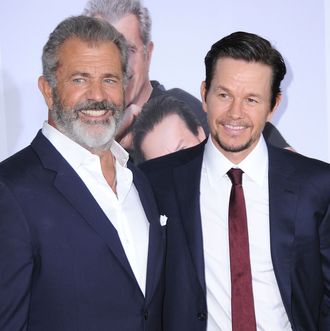 Gibson, Wahlberg.
Photo: Barry King/Getty Images
Mel Gibson has found an improbable ally as he continues his comeback: His former agent (and current Endeavor CEO) Ari Emanuel is now an advocate for the actor-director, according to The Hollywood Reporter. Emanuel pushed for Gibson's blacklisting in 2006 after the actor went on a sexist, anti-Semitic rant during a DUI arrest. Emanuel even penned a Huffington Post blog defending his decision: "People in the entertainment community, whether Jew or gentile, need to demonstrate that they understand how much is at stake in this by professionally shunning Mel Gibson and refusing to work with him," Emanuel wrote, "even if it means a sacrifice to their bottom line." Emanuel's agency dropped Gibson as a client in 2010, after a recording revealed Gibson using racial slurs against his girlfriend Oksana Grigorieva, who accused him of domestic violence. (Grigorieva later dropped the claim to seek an amicable custody agreement.)
Twelve years after the incident, after Gibson "personally apologized to Emanuel" — and to please Emanuel's client and Gibson's Daddy's Home 2 co-star Mark Wahlberg — the agent is pushing for Gibson's return to Hollywood's good graces. Per THR: "With Wahlberg beneath Gibson's wings, Emanuel encouraged Warner Bros. to give Gibson a part in Six Billion Dollar Man and, according to a source, championed him as the director for that film. Emanuel also is said to have touted Gibson to direct another upcoming Wahlberg film, the World War II naval movie Destroyer." Warner Bros. acquired Six Billion Dollar Man from the Weinstein Company, where Wahlberg and Bob Weinstein developed the sci-fi drama. Gibson has been interested in helming Destroyer for some time, which would be his directorial follow-up to the Oscar-nominated Hacksaw Ridge. Hollywood loves a third act reprieve, especially one ushered in by Daddy's Home 2.