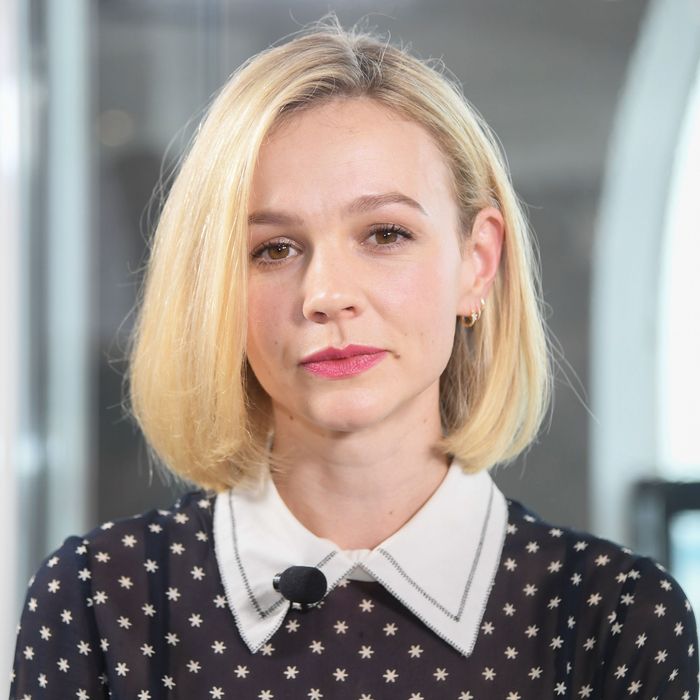 Photo: Stephane Cardinale/Corbis via Getty Images
The Kering Women in Motion Talk series at the Cannes Film Festival is a fancy invite. The luxury group that includes Gucci, Yves Saint Laurent, and Balenciaga among its brands has hosted the series since 2015, held in an intimate suite at the Majestic Barrière Hotel with a tranquil ocean view as its backdrop. Some of the biggest stars of the festival drop by — Isabelle Huppert and Robin Wright were among last year's featured guests. Cold-pressed juices are handed out to attendees. Not just anyone gets to go. So when the golden ticket landed in my in-box, I was obliged to attend. Even at an essentially fluffy, star-obsessed event such as this, there's ostensibly plenty to talk about, especially as one of the most important film festivals of the year falls dismally behind the rest of the world with regard to representation of female directors.
The first event this year was a discussion with Carey Mulligan, who's here with Paul Dano's Wildlife in the Critic's Week sidebar. It was kind of a disaster. Things started off agreeably softball-ish, with moderator and Variety New York bureau chief Ramin Setoodeh asking the usual gobbledygook questions people ask actors ("How did the 2016 election impact your performance as a '50s housewife in Wildlife?") It seems that, even with all the money and consideration poured into every detail of the event, the poor dears at Kering couldn't find a single woman in Cannes to moderate the discussion.
But once the questions were opened up to the chosen few gathered there in the suite, it got downright excruciating. A rhetorical question I'll throw out into the ether: Why are heterosexual men so embarrassing? The media and industry professionals handpicked by Kering to bask in Mulligan's presence included a gentlemen who wanted to know what Carey Mulligan thought of this year's red carpet selfie ban (after she and Setoodeh had just discussed her distaste for social media), and another who asked her "what she would think if I told her she was very beautiful" — in French, forcing an interpreter to repeat the question in English. (Again: men, embarrassing, why.) Another asked her if she might consider working with Lars Von Trier now that his producer Peter Aalbaek has pledged to "stop slapping asses." "That's great for him," Mulligan replied, clearly at a loss for how to respond to an obviously disingenuous question.
The brazen ridiculousness was not limited to men, of course: One woman requested that Mulligan offer some "words of comfort" to Dame Barbara Windsor, whose Alzheimer's diagnosis was just announced. (Mulligan is an ambassador for the Alzheimer's Society, so it wasn't a completely random request, but it's the kind of smarmy celebrity performative nonsense that runs directly counter to any earnest productive discussion of a woman's approach to her work and art.) Otherwise, not many women were called on, and the optics of the male moderator calling on male journalists at the fancy luxury women in film event were … [exasperated French sigh]. Meanwhile, female journalists whose actual beats are women's representation in the industry failed to get invited at all.
Like many corporate sponsored events that purport to further a dialogue about the role of women in the film industry, Women in Motion talks skew heavily toward actors as their headliners. That's to be expected, particularly at a festival whose identity is wrapped up in celebrity and glamour (and the Art, of course). Even Carey Mulligan, who does not have a film playing at the Palais this year, commands more eyeballs than, say, Italian director and Cannes Grand Prix winner Alice Rohrwacher. There will always be more parity between men and women onscreen; unlike female directors, nobody needs convincing that women should be allowed to be actors (how much they get paid is a different story, of course).

But politically minded actors can use their clout to elevate projects by women filmmakers that might otherwise not get made. Mulligan's varied work with female directors (most recently to great acclaim in Dee Rees's Mudbound) was a tertiary topic of discussion at best. But thank god that guy got his chance to tell Carey Mulligan he approved of her appearance.