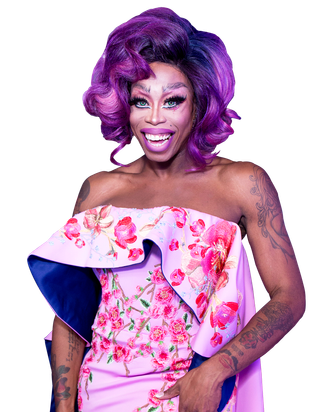 Monique Heart.
Photo: Getty Images
America, it is certainly a sad day for RuPaul's Drag Race viewers everywhere. Monique Heart, the heart of season ten, the Ooh Ah Ah Sensation herself, has left the competition, and many would argue (including the authors of this post) that her elimination will make the workroom a much less fun place. The Snatch Game is an infamous turning point in any season of Drag Race, and Heart's Maxine Waters failed to (forgive us) reclaim her time in a crowded field. We caught up with Monique over the phone to talk about the positive Drag Race legacy she leaves behind, comparisons to another sensational queen, the decision to play Waters despite other options, and an important financial and social reality that is too often left out of the Drag Race discussion.
Congrats on hosting Grindr's Zero Filter Awards this week!
It was really amazing. I got the gig through a friend, and the Zero Filter Awards are just about honoring queer voices that don't hold back. That's kind of who I am in my life. It's for people who live in an uncomfortable place to bring about change, which I feel I identify with. I don't identify as religious, but as someone who is spiritual and gay and who understands that kind of tension. It was a really beautiful thing to honor that.
The way you balance that tension with your effervescence and positivity has been very inspiring on Drag Race. We've heard many people say you have a charm that's reminiscent of Alyssa Edwards.
I'm not surprised by that reaction! If you carry yourself and walk with integrity, people will see it. It's something that's real in a society where it's easy to put on a face and be someone else and not be an authentic person.
What was the most challenging part about performing in Snatch Game that's not necessarily apparent to viewers?
I would say that going into Snatch Game, you need to understand what it really is, and either you get it or you don't. At the time I don't think I completely got it, but it's hard because there's no laugh track, and you're telling all your jokes to a dead room, and either they land or they don't. A lot of times you think "Oh, this is funny!" but it's not the same setup until after it goes through post-production.
You were torn between doing Maxine Waters and Cookie Lyon from Empire. How do you think your Cookie would have done?
If I thought to do Taraji P. Henson, I probably could have done the same character, but that was not the mind-set. I think Cookie could have been a little more fun. I probably could have played with the character a little more. I for sure know more about that character. Maxine Waters only recently become the hot sensation.
Being a queen of color in a red state means something very specific for you. Has touring the country recently opened your eyes to anything?
Now that I'm working as a Ru Girl and traveling, you are reminded that you're black, let's just put it that way. You know, there's a difference in just the simple fact that the other girls that are not black work more than the black girls. So just being one of the black girls on the season, and coming from a red state, it's already an eye opener during my day job. Or when an older white gentleman sees you and grabs his wallet. Or women grab their purse. In the drag world, people are like, "Oh, you're just that funny black queen." It's just kinda hard. All of that, political or not, I haven't done a bunch of activist work in drag, or made political statements, because I have to make sure people aren't offended to the point where I can't make my money.
It was inspiring to see you make the most out of everything you had and slay the runway based on creativity alone. Do you still think it's harder for a queen that isn't as financially solvent as some of your peers to do well?
Oh, yeah. I do. It saved me that I do have good taste. I know how to put things together and I do have an eye for that. But because of what they want — what the judges want, what the fans want — it's Drag Race and you have to look like you belong there and you fit the part. And I feel like you need money! Monét said she didn't have money, and that's fine, but some girls had all 14 looks covered. I didn't. I stayed up 'til two o'clock in the morning working on that hat look. Then I woke up at 4 a.m. working on my hair and my costumes and I had to be up at 7 a.m. ready to go. I mean, it's a lot, and what I want to start up in the future is a fund for the underdog queen next season, whether we get her a dress or cover her utilities while she's gone. So whoever she may be, call Mother Darling up!