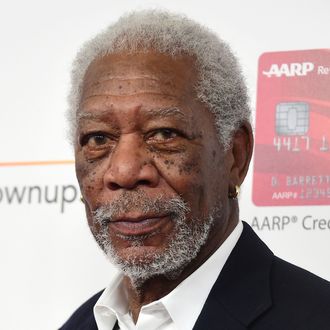 Photo: FREDERIC J. BROWN/AFP/Getty Images
This week actor Morgan Freeman was accused by eight women of sexual harassment in an investigation done by CNN. The allegations included accusations that he and his Revelations Entertainment co-founder Lori McCreary allegedly created a toxic work environment for employees in their office. Yesterday, the actor issued an apology, but tonight he has released a longer statement, according to a Tweet from New York Times culture writer Sopan Deb, attempting to clarify his actions along with an apology.
I am devastated that 80 years of my life is at risk of being undermined, in the blink of an eye, by Thursday's media reports.




All victims of assault and harassment deserve to be heard. And we need to listen to them. But it is not right to equate horrific incidents of sexual assault with misplaced compliments or humor.




I admit that I am someone who feels a need to try to make women–and men–feel appreciated and at ease around me. As a part of that, I would often try to joke with and compliment women, in what I thought was a light-hearted and humorous way.




Clearly I was not always coming across the way I intended. And that is why I apologized Thursday and will continue to apologize to anyone I might have upset, however unintentionally.




But I also want to be clear: I did not create unsafe work environments. I did not assault women. I did not offer employment or advancement in exchange for sex. Any suggestion that I did so is completely false.