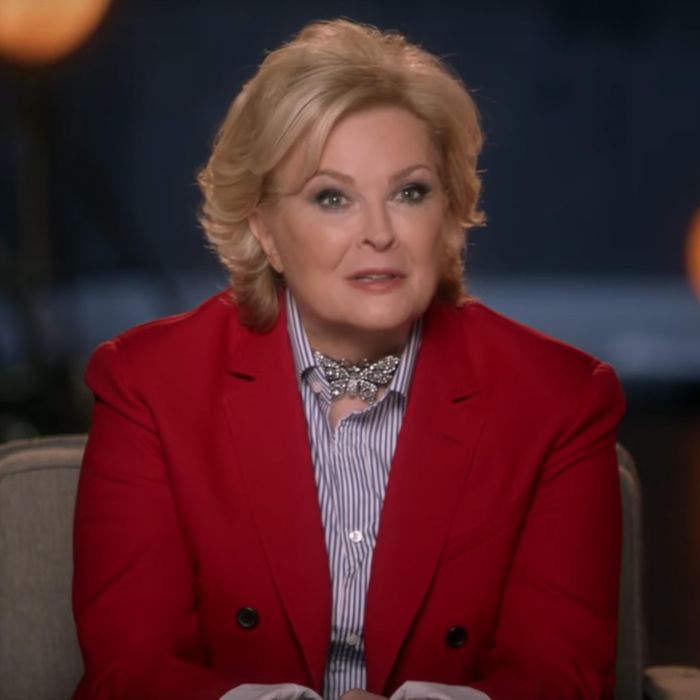 As it unveils its new series, CBS welcomes you to the TV of 2018, which is really just the TV of 30 years ago. At its upfront presentation today, the network premiered trailers for its new pickups, including the buzzy revival of Murphy Brown, its Magnum P.I. reboot, and a show about God using social media. Take a gander at the shows coming to TV below, and if you're wondering when they'll air, you can check CBS's fall schedule here.
Murphy Brown
"You missed us, you know you did." Murphy Brown is back and hosting a morning show in the midst of the Trump era, even if she doesn't quite understand social media (they have a new guy for that). Not seen in the trailer: Jake McDorman, of Lady Bird, Limitless, and Greek, playing Murphy's big adult son, who works on a rival conservative network.
The Neighborhood
White suburban family moves into a new neighborhood, which CBS seems to want to imply is rough-and-tumble, but is really just inhabited by Cedric the Entertainer. The trailer features Josh Lawson, who was replaced with Max Greenfield yesterday. Okay, maybe it is a dangerous neighborhood.
Happy Together
Executive-produced by Harry Styles, Happy Together has a pop star who very much resembles Harry Styles move in with an ordinary couple (Damon Wayans Jr. and Amber Stevens West) in order to escape the paparazzi. Their sex life improves; he learns about the joys of Costco. A fair trade!
Magnum P.I.
Sans mustache and comma in the title, Magnum P.I. is back and now played Jay Hernandez. Otherwise, most of the rest is the same: He's still solving mysteries, getting into action-packed scrapes, and wearing lots of Hawaiian shirts.
FBI
Dick Wolf has expanded his empire onto a new network with FBI, which depicts the intense goings-on of the New York branch of the titular Federal Bureau of Investigation. Missy Peregrym, Zeeko Zaki, Jeremy Sisto, and Ebonée Noel star, and will be appearing on TVs at the gym until the end of the time.
God Friended Me
The alpha and omega comes to social media in order to mess with the life of a famous atheist in CBS's new hour-long drama. Brandon Micheal Hall plays the atheist, who pairs up with an online journalist played by Violett Beane. Together, they do God's bidding and improve people's lives, even if Hall's character doesn't really believe in them. It's like The X-Files, but about the almighty.