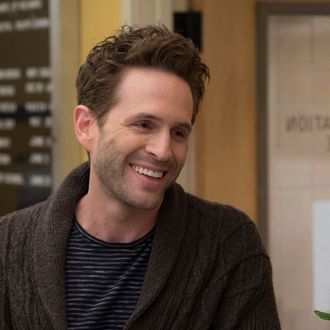 Photo: NBC/Colleen Hayes/NBC
There's a lot of comedy news happening at NBC this week. According to The Wrap, the network has given a season 2 renewal to freshman comedy A.P. Bio starring Glenn Howerton and handed out series orders to two new comedies – Abby's from Mike Schur and I Feel Bad from Amy Poehler.
Schur's Abby's has been in development at NBC since last year and will star Natalie Morales alongside an ensemble cast including Nelson Franklin, Kimia Behpoornia, Jessica Chaffin, Leonard Ouzts, and Neil Flynn. Here's the logline for the multi-cam comedy, which is written and co-executive produced by Josh Malmuth:
Hailing from The Good Place producers Schur and David Miner and led by star Natalie Morales, NBC describes Abby's as a hilariously aspirational new comedy about the best bar in San Diego, home to good prices, great company and, of course, Abby. This unlicensed, makeshift bar nestled in her backyard as the opposite of everything annoying about today's party scene. There are rules at Abby's: no cell phones (not even to "look something up"), earning a seat at the bar takes time and losing a challenge means drinking a limey, sugary "not-beer" drink. As the oddball cast of regulars will tell you, hanging out at Abby's is a coveted honor. But once you're in, you're family.
Poehler's series, meanwhile, is titled I Feel Bad and was given a pilot order earlier this year. Written by Aseem Batra, the single-cam show is based on Orli Auslender's 2017 book I Feel Bad: All Day. Every Day. About Everything and will star Sarayu Blu alongside Paul Adelstein, Aisling Bea, Zach Cherry, Johnny Pemberton, and James Buckley. Here's the logline:
Emet is the perfect mom, boss, wife, friend and daughter. OK, she's not perfect. In fact, she's just figuring it out like the rest of us. Sure, she feels bad when she has a sexy dream about someone other than her husband, or when she pretends not to know her kids when they misbehave in public, or when she uses her staff to help solve personal problems. But that's OK, right? Nobody can have it all and do it perfectly. From executive producer Amy Poehler comes a modern comedy about being perfectly OK with being imperfect.
A.P. Bio debuted on the network back in February and wrapped up its first season last week.