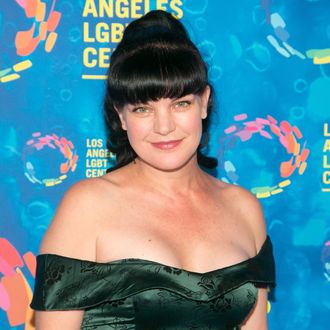 Pauley Perrette in 2016.
Photo: Gabriel Olsen/Getty Images
Shortly after her last episode of NCIS aired, Pauley Perrette claimed in a series of tweets that she endured "multiple physical assaults," though she declined to name the alleged abuser. Perrette spent 15 seasons playing forensic scientist Abby Sciuto on the CBS drama, but retired from the role with last week's episode. Per BuzzFeed, Perrette did not mention NCIS by name in the tweets, but seemed to imply that she was assaulted while working on an acting job, writing that she kept the story quiet out of fear that it would cost crew members a job.
"I refused to go low, that's why I've never told publicly what happened," Perrette tweeted on Sunday. "But there are tabloid articles out there that are telling total lies about me." She added in another post, "Maybe I'm wrong for not 'spilling the beans' Telling the story, THE TRUTH."
She then explained that she had not spoken publicly because she thought, "I have to protect my crew, jobs and so many people," adding, "I'm trying to do the right thing, but maybe silence isn't the right thing about crime."
Perrette claimed there was a "very powerful publicity machine" that was spreading false stories, and said "he did it" without elaborating on who "he" is. She tweeted, "It's horrifying. I left. Multiple Physical Assaults."
Update, 9:35 p.m.: CBS TV Studios responded to the tweets with a statement to Deadline. "Pauley Perette had a terrific run on NCIS and we are all going to miss her. Over a year ago, Pauley came to us with a workplace concern. We took the matter seriously and worked with her to find a resolution. We are committed to a safe work environment on all our shows."
Update, 10:55 p.m.: Perette published a post on Twitter thanking CBS for the studio's support. "I want to thank my studio and network CBS they have always been so good to me and always had my back," she wrote.