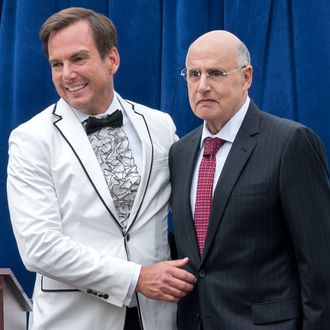 Someone make a banner.
Photo: Saeed Adyani/Netflix/Saeed Adyani/Netflix
Like Bluth company housing, the fifth season of Arrested Development will be coming to you half-finished. Per EW, Netflix has decided to release its forthcoming season of the series in two parts, with eight episodes premiering May 29, as previously announced, and another eight coming later this year. Though Netflix generally tends to release its shows all at once, it has previously split up The Ranch into two halves, and will also release the next season of Kimmy Schmidt in two parts. The first half of the next Arrested Development will premiere before the Emmys qualification deadline (May 31 this year), which means the show will be eligible for awards. Knowing the Bluths, they will be campaigning.