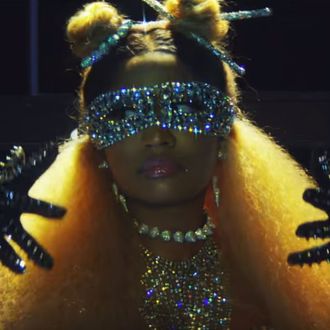 Nicki Minaj has graced us with a peek inside her creative process, and in doing so has made us even more upset that we will never be her. The rapper posted a series of clips to her Instagram pulled from the upcoming documentary Making of Queen. The film documents the production of her fourth studio album Queen, which is set to be released on August 10. In the clips, we get to see inside Nicki's drenched-in-pink studio where she receives a massage as she listens to some beats. Then, the rapper begins to partake in what appears to be an herbal refreshment, because you're allowed to do that when your name is on the wall in neon lights.
Then, we're treated to Minaj in the booth singing along to the beat, almost scatting, while she maps out where her lyrics will go. Surrounded by pink string lights, she finishes with an iconic puff.
Finally, we get to see her nailing down the lyrics themselves. We at last have seen how that Burberry-trench sausage gets made, and suddenly everything just seems so much better.