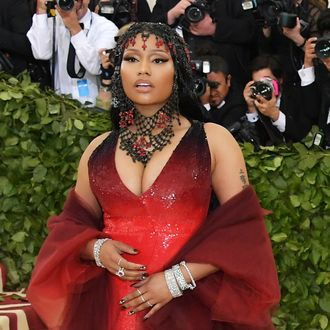 Nicki Minaj.
Photo: Neilson Barnard/Getty Images
What with the recent release of her two Vulture-certified bangers "Chun-Li" and "Barbie Tingz," it's no surprise to hear Nicki Minaj is just about ready to drop her fourth album. While giving you her all on the Met Gala red carpet this evening, Minaj revealed that Queen will arrive on June 15, so your wait will be mercifully short. Between the impending arrival of Queen and 2 Chainz's impromptu proposal, more people should use the Met Ball to let slip their exciting news. Like, for example, it's probably not a coincidence Nicki and Cardi B are hanging out together tonight, right? Right? Right.
Update, May 24: In an Instagram Live, Minaj has announced she's delayed Queen until August 10. She says she'll instead drop three surprises in June, including its cover. Minaj has also revealed that she'll release her documentary ahead of the album.