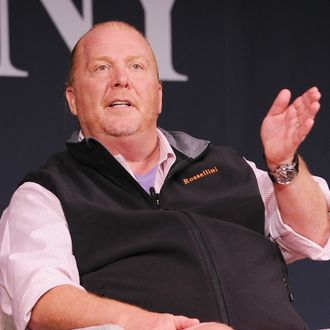 Mario Batali.
Photo: Craig Barritt/Getty Images for Fast Company
In response to inquiries related to last night's 60 Minutes episode about Mario Batali and the Spotted Pig, the New York Police Department confirmed to 60 Minutes that the disgraced celebrity chef is under "ongoing" criminal investigation. While the NYPD did not say what, specifically, they are investigating, several former female employees spoke to 60 Minutes on Sunday about the environment of sexual misconduct at Batali's West Village restaurant, expanding on previous claims of sexual harassment.
In one incident discussed on the show, dating back to 2008, Spotted Pig manager Jamie Seet says she and other employees intervened when they allegedly spotted Batali groping a woman who seemed to be unconscious. Another former employee, choosing to go unidentified on the program, accused Batali of allegedly drugging and sexually assaulting her after she met with him for a drink at the Spotted Pig in 2005. She says she went to the police after the incident, but declined to file a police report.
As CBS News reports, Batali issued a statement denying the alleged 2005 sexual assault, while also acknowledging his past "inappropriate" behavior, behavior which led to his dismissal from the ABC cooking show The Chew and his "stepping away" from his businesses back in December. You can read Batali's full statement below as reported by People:
I vehemently deny the allegation that I sexually assaulted this woman. My past behavior has been deeply inappropriate and I am sincerely remorseful for my actions. I am not attempting a professional comeback. My only focus is finding a personal path forward — a path where I can continue in my charitable endeavors — helping the underprivileged and those in need.
Update: B&B Hospitality Group, the restaurant group Mario Batali helped found in 1998, has released a statement about the allegations against Batali, and the NYPD's investigation.
These allegations are chilling and deeply disturbing. This was the first we learned of them.




Our partnership with Mr. Batali is ending. We have been actively negotiating with Mr. Batali to buy his interests in the restaurants, and he and Joe Bastianich have signed a letter of intent that sets forth the broad terms to do so. We expect to have the final terms set by July

1, and that Nancy Silverton, Lidia Bastianich, Mr. Bastianich, and other current investors will participate in the acquisition.




We have worked for years with Mr. Batali to bring true, innovative Italian cuisine to our guests. He has been our partner and close friend, but the actions he has acknowledged required us to separate wholly so that we reinforce our core values for our employees and our guests.




We had taken a number of steps in the last six months to separate Mr. Batali from the business, including immediately removing him from any operations this past December and asking Ms. Silverton and Ms. Bastianich to take on business-wide leadership roles and responsibilities.




We remain focused on two priorities: ensuring that our employees work with equal opportunity and freedom from discrimination; and continuing to give our guests amazing dining experiences.