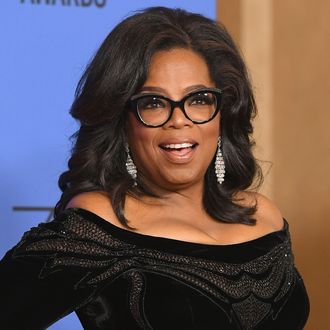 Oprah W,
Photo: Kevin Winter/Getty Images
When Oprah relaxes, Oprah relaxes hard. She meditates 20 minutes every morning and 20 minutes every night, soaks in a hand-carved marble and onyx tub, and, according to her BFF Gayle King, she occasionally enjoys a nice, chill toke. During her interview on The Ellen DeGeneres Show earlier this week, King discussed DeGeneres's star-studded 60th birthday party earlier this year ("There may have been some marijuana being smoked around the place," DeGeneres conceded) and how Amy Schumer is now set on getting the CBS This Morning host to try pot.
King said she and Schumer had a "conversation later about marijuana" and "I said I've never smoked a marijuana cigarette. I never have. Maybe that's part of the problem — [I call it a] cigarette." King added that, while she was a "big square," she "would try with Amy." And she also said that her best friend has more experience smoking than she does. "Oprah has also smoked a little marijuana, too, I don't mind saying. I'm not telling tales out of school." When asked if Oprah likes it, King replied, "I refuse to answer on the grounds that it may incriminate her." She went on:
It's not something that happens on a regular — I'm going to change the subject.
Back in 2015, Oprah told David Letterman she hadn't smoked weed in 30 years. But maybe she's indulged a few times since then. What do you think Oprah likes to do when she's high? Does she smoke in her fancy tub? Wander aimlessly through her garden, running her hands through her herbs? Do you think she's angry Gayle narc'd on her a little bit? Probably not. She's much too chill for that.