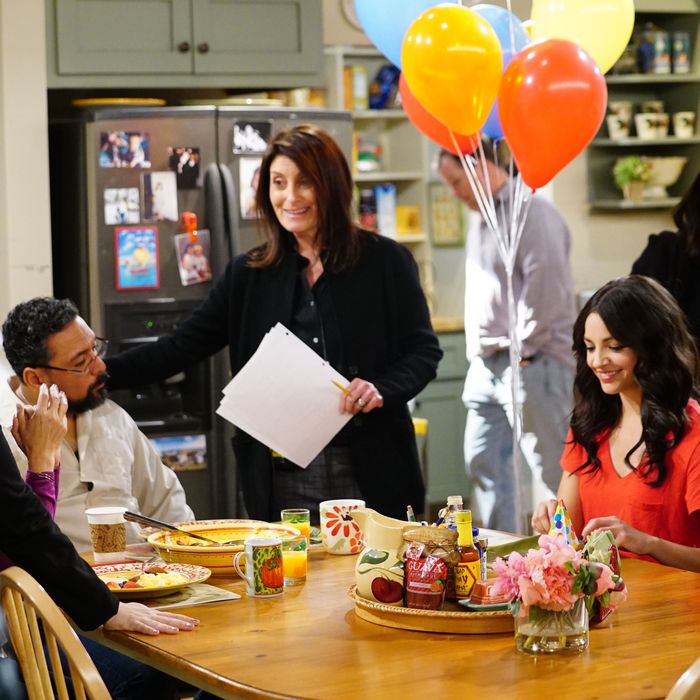 Pam Fryman (center) directs the pilot of
History of Them.
Photo: SPT
In between rehearsals on the CBS pilot History of Them, Emmy-nominated director Pamela Fryman takes out an album. It's a thick one, filled with photographs and mementos of the many sitcoms she's worked on: There she is with Kelsey Grammer in an old Frasier photograph; Neil Patrick Harris is in another on the set of How I Met Your Mother. There's a story for every item.
"When it all comes down to it, I'm just a girl with a scrapbook," Fryman says casually, of her role as one of the most prolific and in-demand directors in Hollywood, as is her way. History of Them is the first of four shows she will direct to compete for spots on the prime-time lineup. No one in Hollywood has been busier this pilot season.
From shooting History of Them in February on the Sony Pictures Television lot, Fryman moved to the Warner Bros. lot in March to direct NBC's Friends-in-Law. (In between, she directed two episodes of Man With a Plan.) Last month, she did night shoots in NBC's unique outdoors set for the Mike Schur-produced Abby's on the Universal lot, before heading back to Warner Bros. to shoot ABC's Most Likely To. And she's not done — in July, she'll direct the first two episodes of CBS's Murphy Brown reboot in New York City.
"I kept saying I'm only going to do a couple, but what can I tell you?" Fryman said last month over breakfast in Santa Monica, after her four pilots were in the can. "Much like childbirth, you forget. You think, Oh, it's just two weeks here. I love that person. I'll just do it. When you look at it on paper, it looks so doable. And then when you're in the middle of it, you're like, Wait, it's a lot." That's because in addition to eight or nine days of rehearsals and taping per show, there are casting sessions, tone and set-design meetings, pre-shoots and table reads. Often, more than one of those things happens on a single day.
At 58, Fryman is following in the footsteps of her mentor Jimmy Burrows, TV's most accomplished sitcom director. Her career began in daytime soaps, but in the 24 years since she began doing sitcoms, Fryman has directed over 550 episodes of more than 40 TV comedies, including How I Met Your Mother, where she directed 196 of 208 episodes, and invented the show's hybrid style of shooting, which combined the liveliness of multi-camera coverage (a la The Big Bang Theory) with the editing and cutaways of single-camera comedies (such as Modern Family). She's lost track of the number of pilots in her credits, but the record for a single pilot season was five.
Does she need to work this hard? Not at all. But to direct a pilot means to have a say in creating the visual template for a show, a challenge she relishes. Fryman is also clearly in her element on a sitcom stage. Naturally funny, a quality she attributes to her late mother, she's as engaged when she's suggesting ways to punch-up dialogue as she is discussing camera angles. "When she reads a word off a page, she can visualize what it's going to be," says Fryman's first assistant director Michael Shea, who has been working with her for 13 years. "Some directors need to try this, try that. She already has a sense of where the comedy is and where it should play and what camera it should be on."
If you're a sitcom creator, to land Fryman means "a million things just got taken care of and I can focus on writing and casting," says Brian Gallivan, creator and showrunner of Friends-in-Law. For one, she comes with her own crew or, "traveling show," as she calls them, who will work on any episode of television she directs, schedules permitting. Made up of How I Met Your Mother alumni — assistant directors, camera operators, sound technicians, the director of photography, wardrobe department, and technical coordinator — most of them worked on all four pilots this season. More importantly, she exudes calm, an invaluable quality when you're at the center of the constantly moving storm that can be sitcom life. "Literally, you are the person who 100 people are going up to asking what they should do," said Natalie Morales, the star of Abby's. "And you have to know the answer. What she did is crazy, but it's also awesome."

Fryman directed 11 episodes of The McCarthys, which Gallivan created, so they already have a shorthand when they work together. She'd directed ten episodes of One Day at a Time, co-created by Gloria Calderon Kellett, who is behind History of Them. The two women also worked together on How I Met Your Mother.
"When you're writing very personal stuff, you want to do it with people you trust will get it," Calderon Kellett said. "And she doesn't yell at people. There's that great Maya Angelou quote, 'People won't remember what you said but they'll remember how you made them feel.' I feel like, boy, people will remember how Pam makes them feel, and she makes them feel great."
As the mother of 25-year-old twin daughters, Fryman says she can't help but be maternal on set. To help Ana Villafañe, the star of History of Them, combat nerves during a scene that required her to sing Whitney Houston's "How Will I Know," Fryman planted a kiss on her cheek. Before asking Devere Rogers on Friends-in-Law to move to a different spot on the stage during the last scene of the pilot, she told him she loved him. "I look at these kids and they're asked to do so much so quickly," she said. "I tell them, 'We're not gonna leave here until we all have what we want, so relax and have fun because this is your life. If you leave work and go, I had a terrible day, that's gonna ruin everything for me."
Morales had never worked with Fryman, but as a newcomer to multi-camera sitcoms, she felt at ease with the director. "She'd sit down with me and really talk it through. She'd ask me — what feels great?" Morales said, recalling Fryman's encouragement to go with her gut. "I really liked watching her having complete control and also be so soft and welcoming. She commands ultimate respect while being supremely kind."
Fryman's last stop this season was Most Likely To, a comedy created by Diablo Cody and starring Yvette Nicole Brown and Lesli Margherita. "I was worried, knowing we were her last pilot — are they gonna have to wheel her in a wheelchair?" said ABC senior vice president of network comedy Jamila Hunter, who picked Fryman for the show. "But I would have never known by the way she worked on our pilot that she'd been through that marathon already."
When asked what she plans to do with her time off in May and half of June, Fryman is quick to respond: "I'm sitting down." Reflecting on the whirlwind, she continues, "I have to admit I was crazy … I will always be crazy. This is [the] time of year I usually say, Next year, I'm only doing two." She'll be disappointed if any of the four shows don't make it on the air, but she understands how the business works.
And even with all the uncertainty and the insane pace of pilot season, "I've never lost that feeling," Fryman says. "It's wildly sincere for me. Look how lucky we are! — that's how I feel as I drive onto the lot every day. If I can remember which lot I'm supposed to be on."